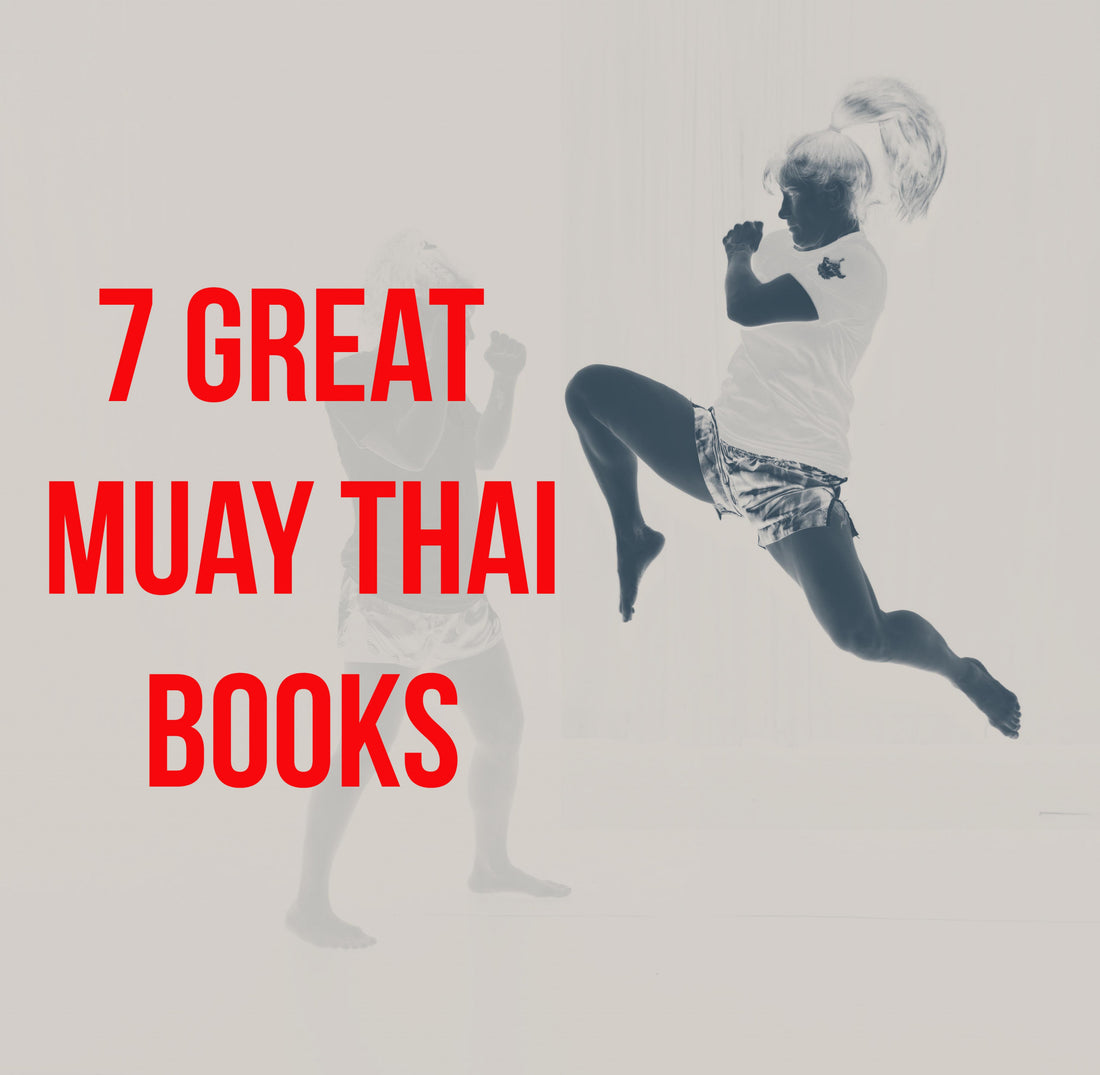 7 Great Muay Thai books you NEED to have on your bookshelf
Ok, there is no getting away from it. I admit it, I am an absolute bookworm! I have been ever since I was a young child. Libraries and book shops are places I love going and spending time in. Just as much as gyms and martial arts dojos. Now that I have written and published my first book on martial arts. As well as currently being in the middle of writing two more. I figured I would share with you my personal list of 7 great Muay Thai books.
These are the 7 that I think deserve a place on your bookshelf!!
The Evolution of Martial Arts in Combat Sports - Stuart Tomlinson
Muay Thai Unleashed - Erich Krauss & Glen Cordoza
On Fighting in Thailand - Matt Lucas
Ultimate Muay Thai - Bob Spour
Muay Thai Mastery - Jerry Laurita
Muay Thai Kickboxing - Chad Boykin
Muay Thai Counter Techniques - Christophe Delp
Unfortunately, Muay Thai is not an art that has many great books written about it. It is still considered something of a niche subject matter by book publishers.
Partly because the skill levels required to be elite are often under appreciated.
Especially by those who don't actively train within it.
So, what makes a Great Muay Thai Book?
It's a good question and one that does not have just one answer. Like anything, every potential audience for a book tends to want something different from it.
Beginners want to learn language, etiquette, history and the basics.
Coaches want to learn more about drills, concepts and key coaching points.
Fighters want advanced techniques, skills and drills they can take away and plug into their own training.
With that in mind though, let's make a start!
The Evolution of Martial Arts in Combat Sports - Stuart Tomlinson
Now, I know it may seem a little narcissistic to talk about my own book. Never mind feature it within a list of great Muay Thai books on my own blog. But, please bear with me (and forgive me) whilst I explain!
The Evolution of Martial Arts in Combat Sports is aimed at those wanting a training reference book. Something to help an individual further develop their striking, no matter what martial art or combat sport they come from.
It is not aimed at beginners. It has been made more with the intermediate to advanced level practitioner or coach in mind.
Each chapter features a world class coach from a variety of different martial arts. Muay Thai is one of them and is the art most coaches originate from within this book.
Elite level Fighters and Coaches from Muay Thai include Damien Trainor, Panicos Yusuf, Yoddecha Sityodtong, Liam Harrison, Paul Karpowicz, Damien Alamos, Greg Wootton, Kevin Ross and Phil Nurse.
Example page from Damien Trainor's chapter
Pros
Modernly laid out book with over 2000 high resolution full colour photos and graphics. All designed to aid with the understanding of techniques and movements
Coaching from a wide range of the world's leading instructors and fighters
Intermediate to advanced applications including a mixture of striking based combat sports
Includes QR codes linked to videos and more information from all featured coaches
Cons
The book is not purely based on Muay Thai. 9 of the featured coaches come from different Martial Arts background
The training is not aimed at beginners. It is more suitable for those who already have an existing understanding of techniques and movements
Does not include any history or background on the art of Muay Thai
Obviously, I am going to tell you I love it ha ha!
Don't take my word for it though. Here are just two of the reviews left for it recently on Amazon.
You can purchase your copy of The Evolution of Martial Arts in Combat Sports here from Amazon.
It is available as both a paperback and hardback, as well as on Kindle.
However, I would thoroughly recommend you get a physical copy to get the most out of this beautiful looking book!!
Muay Thai Unleashed - Erich Krauss & Glen Cordoza
This book was originally published in 2006 and, in my opinion, still holds up really well today. The authors (and featured fighters) do a great job on giving a wide ranging overview on Muay Thai.
The first 30 pages or so give a brief rundown on various topics. These include the history of Muay Thai, basic equipment used and the culture behind the art as it is seen in Thailand.
Following that, the rest of the book (around 200 more pages) focuses more on training.
One of the many things that I like about this book, is that there is something in it for everyone. It is accessible for beginners, whilst at the same time allowing insights that would be of great interest/benefit to those who are more intermediate level.
Pros
Great range of subjects covered give the reader more of a feel of how Muay Thai is as an art
Coaching points and photos show a variety of different training applications. These include both how to hold different pads such as focus pads and Thai pads. As well as basic striking and combination drills with each
Includes drills for clinch work and structured training schedules
The training is aimed at taking beginners from the start and covering a decent range of the fundamentals
Cons
The photos are black and white. Given how long ago this book was made, they unfortunately now show their age. Some of the drills are not clear as to how they work. Possibly because of the fewer photos used to demonstrate each sequence.
There are a number of advanced applications and strategies discussed in the book that are not shown in use throughout any of the drills
There are a number of details not discussed within each drill that are clearly shown in the photos. Such as the use of the long guard or whether a step is needed at the start to enter the range etc
Personally, this has been one of my favourite books on Muay Thai since I purchased it many years ago. Even with the niggles I mention above, I think the authors did an absolutely amazing job showcasing traditional Muay Thai within its pages.
I would definitely recommend it to anyone who wants to both learn more about Muay Thai and take advantage of a huge amount of training drills.
I would even go so far as to say it is very much under appreciated in this area. Most Thai fighters will regularly use the concepts and methods shown within.
Amazon Reviews
the best of the basic muay thai books I have.. lots of history, useful information.. not just technique descriptions..
Amazon Customer
Erich Krauss has delivered yet another excellent, well structured and easily accessible book with Muay Thai Unleashed.The book is very systematic and works from the ground up - beginning with developing the stance, through the fundamental strikes and movements of the art, and then onto more advanced moves and strikes.
The book has excellent instructions and many vivid pictures that make it as easy as is possible to follow.This book definitely leans towards the beginner, but there are still a few gems to be had for more experienced practitioners and I would highly recommend this book to all interested practitioners of Muay Thai.
M Kearney
You can purchase your copy of Muay Thai Unleashed here from Amazon.
It is available as a paperback, as well as on Kindle.
On Fighting in Thailand - Matt Lucas
One of the newer books on this list, "On Fighting in Thailand" was released on Amazon early 2020. The author Matt Lucas is well known in the Muay Thai community and this is his second published book (his first was "The Boxer's Soliloquy").
Matt's approach is every different from the one above. He has not aimed this as a training reference book for those wanting drills or combinations. He has created it with the intent of educating readers as to how the Muay Thai fight scene actually operates in Thailand.
Chapters include rarely spoken about (yet highly important) subjects such as scoring, match making and gambling.
This is one of the more recent additions to my personal Martial Arts library. I really enjoyed reading the insights on offer from someone who is very much a part of the scene in Thailand. The inclusion of interviews with a selection of great fighters is also a nice touch as well.
Pros
Hugely current. It does a great job of discussing the various aspects of Muay Thai in Thailand that seldom get the attention that they deserve.
Offers a real insight into how Muay Thai actually is in Thailand, and the cultural influences that drive it.
Includes interviews with a number of active high level fighters who regularly compete across each of the major stadiums/promotions
The author knows his subject matter through and through. And it shows
Cons
It is not a long book. At only just over 120 pages, it leaves you wanting more
The book does not include any photos, which given some of the brilliant content and subject matter, is a real shame
Does not provide any practical training drills, methods or tips
I really, really enjoyed this book. I love that Matt has based it on all the things that those of us who live outside of Thailand won't see or understand without visiting.
It talks about how the culture and modern scene impacts on Muay Thai in Thailand as it is today. It will no doubt be of huge interest to anyone wanting to understand more about what it is like to actually fight in Thailand.
Amazon Reviews
Like I really thought I knew it all about Mai Thai boxing. I've been to the most hardcore of alleys in Khao San road, won many a buckets of Chang beer in Bangla pubs, and got sak yants in with the tiger and dragon on both sides! I order blue crab pad Thai with the phetest of maks….
Then I read Matt's book and it hit me like a vodka Krating Daeng and laughing gas at the same time. Matt like, breaks down EVERYTHING you'll see in this brutal, honerablest, but most brutal of sports. From like why the guys do the powerful hugging but win lots of money, to how to like pick the right Kru for your crew!
If I had had this book before I went out there to be a bad mofo, I might not have ended up getting floored that one night in Pattaya and getting my visa revoked. Buy this book with your money, or your mom's!
Jerry Herrera
Matt covers extensively on what makes Muay Thai tick in the modern day. There are a lot of small intricacies that Matt covers in his book that is very important for student's of Muay Thai to understand. I have heavily recommended this book to every student in my Muay Thai affiliate programs to read!
J. Puu
You can purchase your copy of On Fighting in Thailand here from Amazon.
It is available as a paperback, as well as on Kindle.
Ultimate Muay Thai - Bob Spour
Going from one of the newer books to one of the oldest here with the Ultimate Muay Thai from Bob Spour. Originally published in 2004, this book has been on the shelves for nearly 20 years now.
It is something of a blend of the past three books. It starts off talking about the history and culture of Muay Thai. Then it moves on to showcasing techniques, ranges and concepts involved in training.
Before finishing with chapters on diet, training schedules and how Muay Thai can be used for self protection.
Because it tries to cover quite a lot, it does not go as in-depth into each subject as you would find in the books already mentioned in this post.
The sections where it lists combination techniques, talks about judging in Thailand and gives insights into the Thai terms used within training are nice touches.
Pros
The book covers a wide ranging subject matter from Muay Thai
The writing is both knowledgable and obviously written from great personal insight by the author
Includes sections on diet/nutrition, Muay Thai for self defence and a guide to judging, which are not common in books on this subject
Has Appendix sections which include both a glossary of Thai terms and grading syllabuses used by some gyms within Thailand
Cons
Some of the chapters offer insights into techniques and showcase how something should look but offer little practical information on what the reader might be able to use within their own training
Photos are clear and well taken but do not give any guidance on how the techniques should be used on the whole
The age of the book does now show itself. Times have changed and some of the information is now no longer as relevant
This book is definitely aimed at those new to the sport or those wanting to know more about how the art has developed in the past 20 years. It is not going to offer a whole lot new to coaches, fighters or practitioners wanting drills, concepts or sport insights.
Having said that, I still really like this book. I love how Bob has written it and the language he uses throughout. It is clear how much he loves and respects both Muay Thai and Thailand. I am fond of it as well because it is one of the first books that I bought based purely on Muay Thai. There were not a lot of them around when this first came out.
Amazon Reviews
First of all this is not a fighting book with lots of combinations and workouts, rather it is an encyclopedia of everything Muay Thai. Muay Thai techniques are explained well and the photos are very clear.
The book contains quite a detailed account of Muay Thai history far more comprehensive than anything I have seen in other books or online. There is also a lot of information about Thai culture and the fighters ceremonies as well.
Muay Thai is explained from all angles the reader is shown through techniques clinch-work, grappling and ring-craft. Also which I found very interesting was how fights are conducted and scored in different categories. For instance knees may be favored more in a clinch rather than using hand and foot combinations.
Also a eye opening and eye watering fact was that the groin is a legitimate target under full rules Muay Thai. I checked this with a fighter that I know, who told me that if a fighter is kicked in the groin the referee can either give them 5 minutes to recover or he may give the person who has been kicked a standing 8 count!
There is a training plan in the book and there is also a sample of a grading syllabus. There is also a detailed glossary of words that are used in Thai Boxing training which may be extra helpful if you decide to travel to Thailand and train. Overall a well presented book and one that I would recommend to anyone studying Muay Thai.
P Hughes
As an experienced trainer in Muay Thai I'm always on the look out for a technically informative book for both me and my students. I have trained with the author of this book many years ago and it's good to see he has finally condensed his vast experience into the pages of this book for all to see.
He has, unlike many books of this genre, included a very detailed chapter on clinchwork as well as the basics of footwork as taught in Thailand. The section on rituals particularly appealed and I was not dissapointed.This is not a westerners interpretation of the art.
Bob shows just how it's done, as it is done in Thailand. An excellent book for beginner and advanced alike. Well worth the price.
Vinni Grewal
You can purchase your copy of Ultimate Muay Thai here from Amazon.
It is available only as a paperback.
Muay Thai Mastery - Jerry Laurita
Another of the newer books in this list here. Muay Thai Mastery from Jerry Laurita was first published in 2021. As a result it benefits from a more modern approach with regards to how it is put together.
It regards itself as a step-by-step guide to learning the techniques of Muay Thai. As such, it is aimed at those wanting training specific drills, guidance and technical work.
It is filled with photos (black and white) and graphics (drawn diagrams of foot positions, correct fist alignment etc) that all seek to help the reader understand clearly what is going on.
Although its target audience is those new to the sport, there are sections which would easily be of use and worth to those who have been training at an intermediate level.
It encompasses a really impressive range of training tips, drills and skills. Chapters cover topics such as catching kicks, sparring tips and bag work. All elements are touched upon and I really like how it talks about how not to do things alongside displaying more technically correct examples.
It is very clear that Jerry is a hugely experienced coach from the way that he conversely informs the reader of details to be aware of in each section throughout the book.
Pros
Modern lay out with a huge number of clear photos and graphical inserts
Includes common mistakes within each section and offers tips/insights throughout
Gives technical, defensive and tactical applications for each range
Covers partner work, bag work, solo training, clinch and pad work
Cons
Does not offer much to those already experienced in Muay Thai or coaches seeking new insights
Focuses a lot on how to do single techniques and movements without showing transitions, combinations etc
Some of the chapters don't go very in-depth on the subject matter bring discussed
I like the formatting and structure of this book. It is definitely a book for those who want specific walk throughs on individual techniques, movements and fundamentals.
Jerry's voice is clear throughout and as a coach himself, he tries to pass on what he expects are the common issues to be faced by those learning each aspect of training.
Amazon Reviews
This book is a must have for any martial art enthusiast regardless of style. I appreciate how the author took the time to illustrate and break down the fundamentals of each section in and easy to read and understand step by step guide. Regardless if you are a beginner or an experienced fighter.
There is something for everyone in this book. I'm reluctant to say this book is all you need to learn Muay Thai, but the author does provide the reader with an overall understanding of technique and stylistic aspects of this art. I definitely look forward to future books from the author.
Megan
Clear and easy to understand instructions for attacks and drills; pictures clearly illustrate the movements perfectly.
John Brusstar
You can purchase your copy of Muay Thai Mastery here from Amazon.
It is available only as a paperback.
Muay Thai Kickboxing - Chad Boykin
The oldest book on this list. Muay Thai Kickboxing by Chad Boykin is definitely aimed as a manual for those looking for drills, methods and concepts to add into their own training. Filled with a large number of photos (black and white), this book covers aspects of training including striking, physical conditioning and flexibility/mobility work.
More of a western view of Muay Thai, this book goes much further into regular fitness, strength and mobility work than any of the others on this list.
The actual sport specific striking is a little over half of the book. That being said, I really like how Chad has listed a large multitude of possible combinations and sparring drills towards the end of this particular section.
Western Muay Thai
Like with a lot of books from this time, the photos (although well taken) are not always clear enough with regards to how each particular technique or drill works. Some are and some aren't. The text and writing though is encompassing and tries to make up for any lack of relevant imagery, with a well versed description of use, context and application.
I would suggest that this book is aimed more at the intermediate level of practitioner.
Although the conditioning, strength and exercise elements are going to be useful to all levels of ability. Same with regards to the well laid out tactical and technical applications of striking training.
Chad has done a great job with this book. It is filled with a whole heap of practical information and drills that the reader can incorporate into their own training straight away.
Pros
Well laid out book with a large number of black and white photos to demonstrate techniques, drills and exercises
Covers all aspects of physical conditioning alongside the fundamentals of Muay Thai training
Fantastic array of training suggestions, sparring tips and conditioning routines
Ideal for intermediate level practitioners who want to add new workouts, drills and methods to their existing training
Cons
Does not do a great job at showcasing how the techniques or striking featured works. More of a photo of the technique as opposed to a structured way of learning or using it
Concentrates heavily on the physical conditioning i.e. weights, aerobic exercise etc to the detriment of more Muay Thai specific training
The Westernised approach to Muay Thai comes across a lot in this book. There is nothing written that would offer the reader insights into traditional Muay Thai or how to compete successfully under those rules
Although this book sometimes feels a bit more like a Kickboxing book than a Muay Thai one, it is not without its real strengths. I for one really loved the many written combinations, drills and workouts listed in the book.
The lack of clear and concise photos will mean that beginners won't get as much out of this as those already with some training experience. However, there is lots to offer for those wanting to up their training and increase their knowledge base.
As with all books of this age, some of the information within it will now feel a little dated. Especially given that the internet currently offers us vast insights into traditional Muay Thai on a daily basis.
Having said that, I really like this book. I think Chad has done a great job in putting together something that is of real, genuine use to those that train and want to improve both their striking and physical conditioning.
Amazon Reviews
Great book! This is a really comprehensive guide to training, covering techniques and drills for striking, defence, counters, and clinching, plus there's lots of info on strength, cardio and flexibility too. It's got all you need to know!
Rob
This book is an excellent buy. For me its a kick boxing book with Thai techniques rather than a classical muay Thai book as anyone who has spent time studying either or both styles will more than likely think the same. However this is in no way to the detriment of what it offers inside to the reader.
Inside is a wealth of information on techniques, combinations, session outlines, supplementary circuit training and weight training methods and plans to work from. This is just a small part of what the author offers. It is only my opinion but I personally find this book fantastic.
I have made use of it and still do even now. Anyone into striking arts won't be disappointed with the purchase and I'm sure will have as much joy with it as I have. There is always something to be learnt and I'm certain that your training sessions will be enriched as a result.
L
You can purchase your copy of Muay Thai Kickboxing here from Amazon.
It is available as a paperback, as well as on Kindle.
Muay Thai Counter Techniques - Christophe Delp
Christophe Delp has written quite a few books now on the subject of Muay Thai. Muay Thai Counter Techniques is just one of them. Originally published in 2004, this version was reformatted before being re-released in 2013.
First of all, the photos in this book are way better than most in this genre. There are literally hundreds of full colour images across each chapter. Having made so many books now, Christophe has got the necessary experience to know what is going to look good on a page.
This is much more of niche book than possibly any other on this list. Although there are a couple of chapters at the beginning that talk about the background of the sport and what to expect in competition. The main part is indeed focused on showcasing a wide variety of counter techniques used within Muay Thai.
These include specific sections on countering punches, kicks, elbows and knees. I love how focused this book is on its particular subject matter. Some books can often be guilty of trying to be everything to everyone.
It is not a book for beginners. The author has definitely aimed this more at the intermediate to advanced level practitioner. There are very specific traditional Muay Thai influences throughout the book.
Pros
Well laid out with hundreds of high resolution full colour photos
Specific topics allow the focus to be completely on sparring techniques in every chapter
Although not shown, some of the training can be used in pad work with the correct adaption and understanding
Includes rarely seen chapters on Muay Boran and advice on training in Thailand
Cons
Some of the drills can be confusing and they are not always clear as to how they would work in a competitive fight
As with all books that are ultra specific, some of the concepts can seem like they are stretching the topic so as to flesh out the chapter with different looking techniques. There is no difference or understanding shown with regards to whether something is high percentage, low percentage or pure Hollywood (something gone for when you have nothing left to lose or are showboating) when it comes to elite level fighting
The chapter on Muay Boran is always going to be open to interpretation. I have seen some of the drills before shown in a completely different way (but with the same name). Christophe has obviously worked with some great Muay Thai fighters and coaches when producing this book but that does not mean there is just one way to perform these movement sequences
I think Christophe is an amazing author and I genuinely love his passion for Muay Thai (and Martial Arts in general). I have read a number of his books over the years and always learn something from each of them.
For me, I really like this book. As I have mentioned above, I appreciate the focus of it on one particular topic. It allows the subject to be looked at more in-depth. In that respect, this book does not disappoint.
I would recommend this book to more experienced practitioners and coaches looking for different ideas and training drills. There is some figuring out to be done by the reader (with regards to both the physical application of some of the movements and their real time context) but I think it is more than worth that time.
Like many authors, once you have one book and like what you see. You are no doubt going to want to read the rest of the their work. That is no different here. Give this book a chance and I am sure you will be seeking out all of his past work to add into your library.
Amazon Reviews
The book introduces a large number of Muay Thai techniques. It provided me with a better insight and many new aspects. I came to a better understanding of some techniques and also learned some new techniques. In particular, I liked the total authenticity with famous Thai fighters as presenters.
I am very satisfied with this good book and, in addition, the price-quality ratio is top!
Kevin
This is a great book.
This book has many many techniques, insights and advice.
Packed with pictures clearly showing each step of the technique and concise descriptions of each movement.
Also, it has a sample fight camp as well as advice on your first fight and training. To top it all off techniques and interviews with world famous Thai fighters are included...If you love Muay Thai, this book has something to offer at every skill level.
Chad Hill
You can purchase your copy of Muay Thai Counter Techniques from Amazon.
It is available as a paperback, as well as on Kindle.
Great Muay Thai Books
As you can no doubt start to see, there is no one single Muay Thai book that is perfect for everyone. Each one focuses on covering different topics and is typically written with a particular reading demographic in mind.
That being said, I hope the 7 Muay Thai books mentioned above give you food for thought!
Below are some more Muay Thai books that are currently available for you to check out on Amazon. These are ones that I do not currently own or have read. Hopefully I will add them onto my own bookshelf at some point!!
I know there are many more!
Do you have the same books on yours? If you have read any of the ones featured, what do you think of them? Are there any missing from this list that you would recommend for to me?
Related Content
If you enjoy this article then you may well love Pad Work in Martial Arts and Combat Sports: A Complete Guide or 10 of the Best Dutch Kickboxing Gyms you should visit in 2023 as already featured on this site.
Warrior Marketplace
Here, you can also learn more about all of the other exceptional exceptional Muay Thai, Kickboxing, Boxing, Karate and Taekwondo Instructional Volumes featured on the Warrior Collective! 
Thanks for reading, I hope you enjoyed reading this article on 7 Great Muay Thai books you NEED to have on your bookshelf, please like, share and don't forget to subscribe to the Warrior Collective Youtube Channel for great training videos each week!!
Keep up to date with the Warrior Collective
If you would like to stay on top of all that goes on the Warrior Collective, please subscribe to the newsletter.