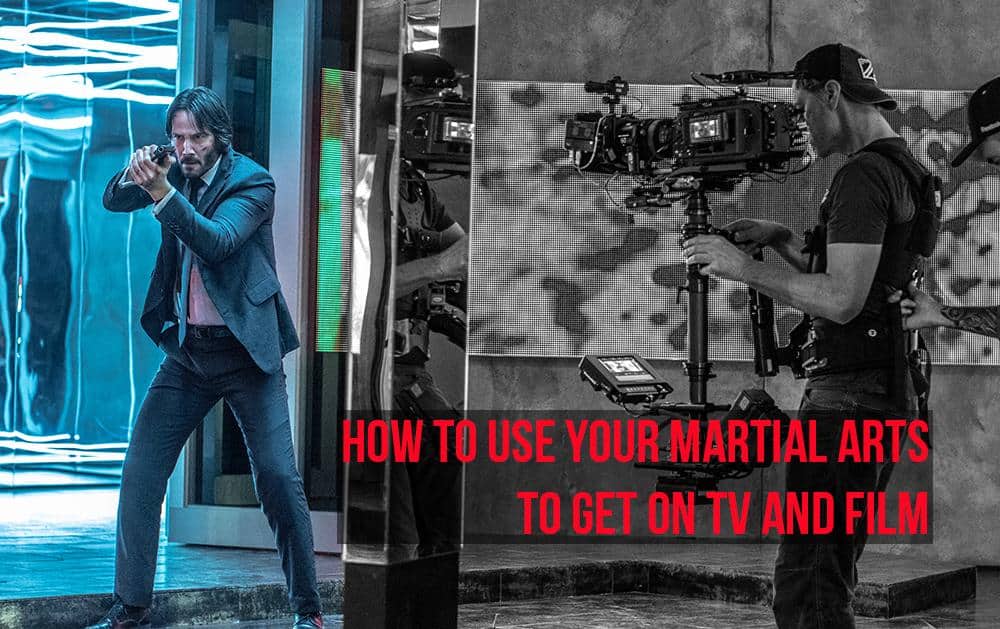 How to use your Martial Arts to get on TV and Film
How to use your Martial Arts to get on TV and Film
Like most people I grew up watching action films, cartoons and television programs that in one shape or another portrayed the awesomeness of Martial Arts. In my era of youth (mid 80's to mid 90's), there seemed to be no end of kick ass stars to want to emulate. I actually credit Jean Claude Van Damme as a major influence as to why I wanted to give training a try in the first place. I day dreamed about how brilliant it would be to be able to do things that he did on screen. After starting Martial Arts though I soon realised the reality of the situation ha ha. Those skills do not come over night and certainly not without a hell of a lot of work!!
Once I started to gain some competency in my striking and the much sought after ability to do the full box splits (yes, even across chairs....), I figured I was surely at least half way to being a movie star ha ha!! Unfortunately, apart from a very brief appearance on the Price is Right with the one and only Joe Pasquale (I did not win...), that is far as I ever got with actually taking myself or my skills onto stage or screen. It did however give me more than a passing interest into finding out more about how this could be done.
Working in the TV/Film Industry
I have friends who have gone from the world of Martial Arts into stunt work, fight choreography and regular appearances as an extra. Most have gotten into it through a mixture of their outstanding ability, experience and just simply being in the right place at the right time. I researched to find out whether there was an actual formal path to take in order to make this happen for everyone. The first thing most people look at when thinking of transitioning from Martial Arts training to film or tv is working as a stunt performer (man or woman). This sounds like the perfect job to most as it is what you would imagine the perfect role would be for anyone with immense butt kicking skills. Unfortunately, there is a caveat with this path. You need to have an equally strong ability (alongside your Martial Arts) in a number of other disciplines (think swimming, gymnastics, driving etc) and be assessed thus to meet the current stipulated criteria in order to qualify as a registered stunt person. This goes alongside a serious amount of working your way up the ranks once on the register as well.
Another path to consider then is that of the screen combatant or action extra. What is that I hear you ask? Well, essentially these are the people you see in the foreground (or far away in the background dependent on their experience) during fight scenes on tv or film. They normally won't have spoken parts (although this is not set in stone) and are frequently used in productions such as Vikings and Game of Thrones where mass battle scenes have become the norm. These roles require a solid understanding of fight choreography as it applies to camera angles, the ability to perform low to high level Martial Arts techniques (dependent on requirement or role) and the flexibility to be on set for long hours until the shoot is finished. Unlike the work of a registered stunt person, this is one that is purely Martial Arts based so it is an easier route to getting work on tv or film. Although the ability to act, other skills and experience will obviously influence how desirable you are to a potential employer.
British Action Academy
There is an organisation based in Surrey called the British Action Academy that specialises in the instruction/coaching of any individual who wants to learn how to enter the tv/film industry as a stunt performer or skilled supporting artist (screen combatant/action extra). They run regular courses throughout the year for complete beginners through to advanced practitioners covering a wide range of different skills/topics (unarmed/armed screen combat, stunt falls and firearms training to name but a few). They also run a very successful casting agency and work closely with most of the major production companies around the world. Those on their books have worked on major movies such as The Avengers, Assassins Creed and Pirates of the Caribbean.
I personally booked on to one of their courses towards the latter end of 2016 to find out for myself just how good they were and what their training entailed. I signed up for Phase 1 (the entry level) of their Warrior Masterclass program (these are the unarmed/armed screen combatant training sections). This phase is a 3 day course and covers Two Handed Sword, Single Sword, Sword and Shield and Staff/Spear alongside a range of unarmed techniques. It also equips the participant with an understanding of the intricacies of fight choreography when it is being filmed i.e. camera angles etc. There are no set physical requirements, prior acting experience or even existing Martial Arts skill necessary to take part (although they do recommend at least a basic level of fitness).
I booked the onsite accommodation (the academy utilises a venue located on a gun range) and although very basic, it was cheap and met all my needs with no issue. I had no preconceptions of what it was going to be like but I figured my Martial Arts experience and reasonable level of fitness would allow me to at least have a good chance of accessing the training without too much difficulty. The course itself was led by two trainers and I had about 23 others on the course alongside me. I quickly felt at home as we kicked off the combatant work with unarmed applications. The physical side of this and the remembering of choreographed routines was not something I struggled at all with (the benefit of having trained rearing it's beautiful head!). There were others in the group who obviously did not have any Martial Arts experience and it showed quickly. They often lacked co-ordination, an understanding of basic striking and found the choreography difficult to retain. However, my lack of experience in the acting department soon showed as I was having to get acquainted with making things look like what they should i.e. facial expressions, vocabulary and reactive movement.
3 full days of working this and a variety of weapons from different historical periods (gladius and shield from Roman/Gladiator times, two handed sword from Medieval etc) was physically and mentally hard going. I was surprised both by how intensive it was and by how it became much more difficult when you had to perform your choreography in front of others (each bit is also recorded for you to watch back in order to analyse any mistakes). I won't spoil it for you and explain exactly what we did. All I will say is that Martial Arts experience is definitely going to stand you in good stead here. I really would have hated to have done the course without ever having trained as some people did. Talk about your steep learning curves ha ha.
I found out a few weeks after finishing the course that I had passed it. You don't find out results on the day, they go through their assessments over the following weeks and get back to you. It is a bit like waiting for your GCSE/A level results all over again!! Having passed I was then allowed to book onto the next level of the course should I wish to progress further with the training (Phase 2) and I was also invited to join the books with their casting agency. Having spoke at length with the trainers and other people on the course I know that those who really wanted to go into this line of work were very likely to get it if they both worked their way through the full program and were willing to put the hours in on set. I did not go any further with it at that point. I had done it for fun and to see what it was like more than any real aims of actually getting on screen at this stage of my life. However, I really enjoyed it and I certainly have not written off the idea of completing all the courses they offer. Nor is it a definite 'No' to potentially trying the road of screen combatant/action extra in the future.
There are of course other organisations and courses offering training in this area but the British Action Academy is the only one to offer ones that are officially recognised within the industry.
Summary
Pros
Quality - Professional from start to finish. Well ran and the instruction was excellent
Recognition - Attending and completing these courses has real weight within the industry
Speed - The courses are all intensive. This allows (with obvious additional practise at the higher level) those who attend to get through them quickly if desired.
Experience - The courses genuinely give you an insight into what the demands of this particular industry are and are a real eye opener in to what is actually involved in major productions.
Cons
Cost - There is no denying that the courses are not cheap. Each are often hundreds of pounds and if you are planning to buy weapons to practise with as well, you will find it a costly venture to get through them all.
Duration - Although it can be perceived as a plus to be intensive, courses that require you to be there for a minimum of three days are going to take some commitment to undertaking. Especially if like me you don't live anywhere near the venue.
Difficulty - The courses are not to be underestimated. They are difficult physically and mentally. I only did the first phase and found that challenging at times. I would definitely recommend a reasonable level of fitness and some prior Martial Arts experience to get the best out of it!
Would I recommend the British Action Academy to anyone interested in becoming a stunt person, learning how to put their Martial Arts to good use as a screen combatant on TV/film or even just for the experience? Damn right I would!! None of the cons should put you off if this is something you really want to do. They are just mere caveats to consider. I thoroughly enjoyed all my time down at the academy and would go back there for the other phases (and courses) without a shadow of a doubt. Even having just been there for the time I was, there had been invites put my way with regards to work as an extra on the Vikings series being filmed at that point so I am 100% sure they would also be an amazing casting agency to be onboard with as well!!
Ratings
Venue - 7/10 (onsite cafe is ok but food is nothing to write home about)
Onsite Accommodation - 6/10 (basic but fulfilled all my needs and was cheap)
Course Content - 9/10
Instruction - 9/10
Cost to Content ratio - 8/10 (I do think it is expensive but you walk away with an industry recognised certificate so the value is there)
Overall - 9/10 (If you have any aspirations for using your Martial Arts to work on TV or Film, these courses are going to be essential to attend!)
For any further information on the British Action Academy and all the courses they offer, you can visit their website at www.britishactionacademy.com.
Keep up to date with the Warrior Collective
If you would like to stay on top of all that goes on the Warrior Collective, please subscribe to the newsletter or follow on any of the Social Media listed below.