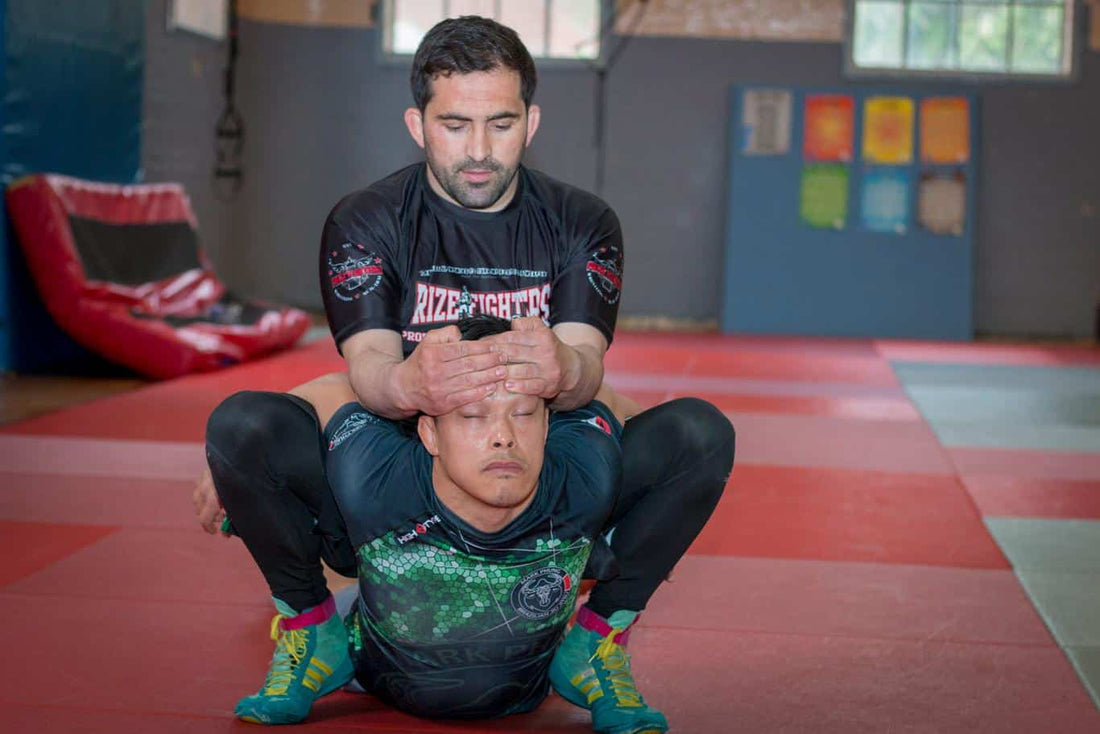 Developing Flexibility in Grappling - The need for Post Training Massage and Mobilisation
Developing Flexibility in Grappling - The need for Post Training Massage and Mobilisation
Most people think of strikers and high kicks when they consider the need for stretching to increase flexibility in Martial Arts. Athletes in combat sports such as BJJ, MMA, Judo and Wrestling are typically guilty of under appreciating how developing flexibility in grappling can up their game, reduce the likelihood of injury and aid recovery. Post training massage and mobilisation has long been used in Eastern Europe by athletes amongst each other to help these aspects and prepare appropriately for their next hard session.
Having a set routine to follow then can be of great benefit for any coach or athlete.
Lyubo Kumbarov
Lyubo Kumbarov is a multiple times Bulgarian National Wrestling Champion, world renowned coach, NCJAA Outstanding Wrestler Award Winner and product of the phenomenal CSKA sports school in Bulgaria. Internationally known both for his high level wrestling skills and his unparalleled ability to instruct, he is a much sought after figure within the world of grappling sports. Currently the wrestling coach at Roger Gracie Academy HQ in London, Jiu Jitsu athletes and MMA fighters alike travel at length to take advantage of his instruction on applying Wrestling in BJJ / MMA. Hugely respected by all, he is a wrestler's wrestler with details second to none.
Flexibility in Grappling - Post Training Massage Full Body Sequence
Lyubo goes over one of his favourite full body post training massage sequences to aid the development of flexibility and mobility in the video below
Information
For more information on Lyubo Kumbarov or any of the fantastic coaching available with him, please contact him through his Facebook page.
Related Content
If you enjoy this article then you may well love Finishing the Triangle - Lessons learned from a lifetime in Japanese MMA with Enson Inoue or Tapping Bigger Guys with the Kimura in MMA / No Gi BJJ as already featured on this site.
Warrior Marketplace
Find out for yourself why Lyubo Kumbarov is one of the most sought after Wrestling coaches in the world, learn more about his amazing full length instructional volumes on this site Elite Wrestling for BJJ & MMA, Dominating the Ground with Wrestling for BJJ & MMA and The Blueprint for Killer Wrestling in BJJ & MMA along with all the other exceptional exceptional BJJ, MMA and Wrestling Instructionals featured on the Warrior Collective!
Thanks for watching, I hope you enjoyed watching this article on Developing Flexibility in Grappling - The need for Post Training Massage and Mobilisation, please like, share and don't forget to subscribe to the Warrior Collective Youtube Channel for more great videos each week!!
Keep up to date with the Warrior Collective
If you would like to stay on top of all that goes on the Warrior Collective, please subscribe to the newsletter or follow on any of the Social Media listed below.