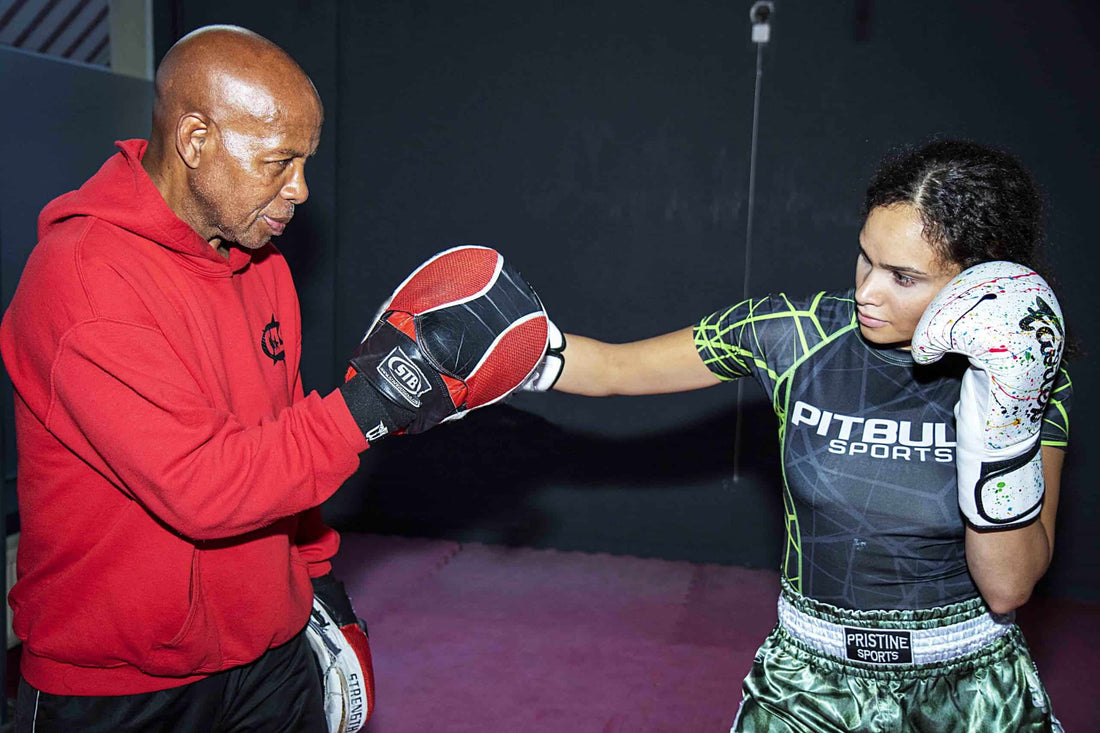 Dutch Kickboxing Combinations with Lucien Carbin
Dutch Kickboxing Combinations - Unorthodox Drills for Speed & Power with Lucien Carbin
A lot of people automatically assume that Dutch Kickboxing Combinations are all just about moving forward, attacking and aggression. Elite level coaches such as the legendary Lucien Carbin are certainly not to be tarred with the same brush. Speed, flow and timing are the cornerstones of his unorthodox approach to striking training.

Lucien Carbin
Lucien Carbin is widely regarded as one of the world's leading striking coaches. A former champion in many styles, including Kyokushin Karate, Savate, Kickboxing and Muay Thai, he has an unparalleled level of experience within combat sports. The renowned Dutch legend has coached a literal who's who of the Kickboxing world to high level success, including the likes of Alistair Overeem, Tyrone Spong, Rob Kaman, Ilonka Elmont, Gilbert Yvel, Frank Lobman, Sergio Wielzen, Andy Ristie and many, many more.
His training methods are completely unique to him and were developed via a multitude of different martial art disciplines. Kyokushin, Kickboxing, Boxing and Muay Thai are amongst some of those that have influenced the development of the Carbin All Style System.
Dutch Kickboxing Combinations - Unorthodox Drills for Speed & Power
Lucien Carbin covers one of his favourite Dutch Kickboxing Combinations on the pads in the video below
Carbin All Style with Lucien Carbin
If you like this then I am sure you will love either of Lucien's full length instructional volumes on the Warrior Marketplace.
Carbin All Style Dutch Kickboxing System with Lucien Carbin and Dutch Kickboxing Drills - Carbin All Style with Lucien Carbin are both available for you to purchase and download from this site today.
Information
For more information on Lucien, Carbin All Style or any of the fantastic coaching available with him, please contact him through his Facebook page or Instagram account.
Related Content
If you enjoy this article then you may well love Advanced Muay Thai Drills - Stance Changes in Fights or A Guide to Muay Thai Vs Dutch Kickboxing as already featured in the training and article sections of this site.
Warrior Marketplace
You can find full length Kickboxing, Boxing, Muay Thai or MMA instructional volumes to download today from the Warrior Marketplace.
Thanks for watching, I hope you enjoyed watching this tutorial on Dutch Kickboxing Combinations with Lucien Carbin, please like, share and don't forget to subscribe to the Warrior Collective Youtube Channel for more great videos each week!!
Keep up to date with the Warrior Collective
If you would like to stay on top of all that goes on the Warrior Collective, please subscribe to the newsletter or follow on any of the Social Media listed below.