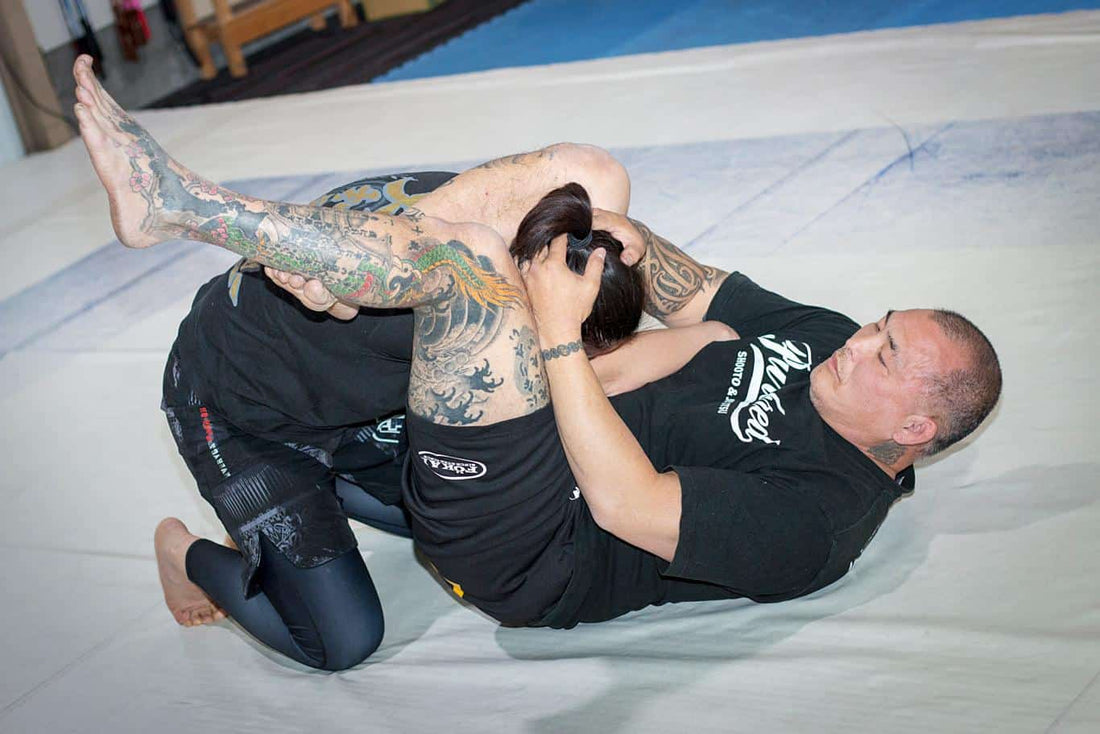 Finishing the Triangle - Lessons learned from a lifetime in Japanese MMA with Enson Inoue
Finishing the Triangle - Lessons learned from a lifetime in Japanese MMA with Enson Inoue
Finishing the triangle (or any submission for that matter) increases in difficulty in direct proportion to the ability of your opponent. Therefore, the higher the level of training you can access, the more effective you will be at completing any attacks you instigate whilst grappling. Japan is well regarded by many as one of the birth places for a multitude of Martial Arts disciplines. This has led to it's own unique journey within the evolution of modern day MMA. One such individual at the forefront of this has been the world renowned Enson Inoue.

Enson Inoue
The featured coach is Enson Inoue, Shoot Heavyweight Champion, renowned fighter on Pride, head coach at Purebred MMA gym in Saitama, Japan and legendary trailblazer on the Japanese fighting scene. Enson, although born and raised in Hawaii, is now a permanent resident in Japan, having moved there nearly 30 years ago to train and compete at the highest levels in Martial Arts.
He has notable wins over world level fighters Randy Couture, Soichi Nishida and Andre Mannaart. His extensive career has seen him compete in MMA bouts on some of the biggest promotions in the world, including that of UFC, Pride, Shooto and Vale Tudo Japan as well as grappling on the elite stage at ADCC.
Destiny Forever
Alongside his Martial Arts, Enson has also founded Destiny Forever, where he personally designs and creates bracelets utilising gem stones known for their healing/restorative properties. These off the shelf or bespoke pieces are in demand globally because of both their beauty and their inherent Yamato Damashii inspired spiritually positive influences.

Finishing the Triangle
Enson goes over some of his key details in effectively finishing the triangle in the video below
Information
For more information on Enson Inoue or any of the fantastic coaching available with him, please contact him through his Instagram account or via the Purebred gym.
Related Content
If you enjoy this article then you may well love 10 of the BEST Singapore Martial Arts Gyms you should visit or Tapping Bigger Guys with the Kimura in MMA & No Gi BJJ as already featured on this site.
Warrior Marketplace
You can find full length MMA, Wrestling and BJJ instructional volumes to download today from the Warrior Marketplace.
Thanks for watching, I hope you enjoyed watching this tutorial on Finishing the Triangle - Lessons learned from a lifetime in Japanese MMA with Enson Inoue, please like, share and don't forget to subscribe to the Warrior Collective Youtube Channel for more great videos each week!!
Keep up to date with the Warrior Collective
If you would like to stay on top of all that goes on the Warrior Collective, please subscribe to the newsletter or follow on any of the Social Media listed below.