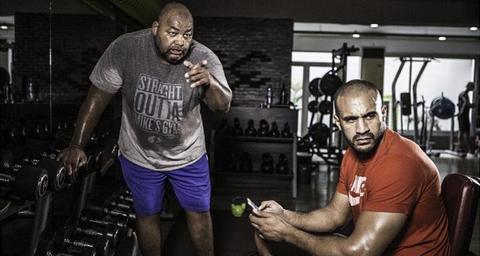 Martial Arts Advice to Young Fighters from some of the Best in the World
I have travelled all over the globe over the past few years interviewing some of the best coaches, fighters and figures seeking Martial Arts Advice from them on a number of subjects. One of the questions I often asked was;
"What would your advice be to a young fighter or Martial Arts student wanting to excel or become the best in the world?"
Here is a collation listing a number of their learned insights;
Alex Enlund - Former Cage Warriors World Champion, renowned UK Pro MMA Fighter and Head Coach at SBG South Shields in Newcastle
"Have fun! There are positions in Jiu Jitsu alone that can make you feel like you are getting beaten up and if you can't find a way of enjoying the negative situations you are going to end up in, you are going to quit. You have to enjoy when someone gets the better of you in training, when someone is pushing you hard and pushing you to the absolute breaking point where you want to stop. If you are not having fun by testing yourself and bringing yourself to that moment then you stop and you will never succeed. The absolute worst situation has to be your most enjoyable, the times where you are getting your ass kicked are the most important ones!"
Jordan Watson - Current Yokkao World Muay Thai Champion, UK No 1 and Top Pro Fighter at Bad Company in Leeds
"It sounds cliched, but just try your best, train your hardest and do as much as you can. If then you still lose, you know you have given it your all. I have been in a situation where I was humiliated because I lost without giving it my best and that is the worst thing you can do. There is no point starting something and not giving it 100%, you don't want the regrets of thinking you could have trained harder for the fight or you could have dieted a little bit better. Try your best and you can be the best that you can be!"
Andre Manaart - Former World Kickboxing/Muay Thai Champion, legendary Dutch Fighter and Head Coach at the Famous Mejiro Gym in Amsterdam
"Stay modest, don't believe the hype! When you are World Champion, don't change, continue to train hard and treat people the same as you have always done."
Mike Grundy - Commonwealth Wrestling Medalist, Top Ranked Pro MMA Fighter and Head Coach at Team Kaobon Wigan
"Make sure you concentrate in school so that if you get injured, which can happen a lot in combat sports, you have something you can fall back on. Having said that, if you have a dream or a goal, then go for it 100%, believe you can do it, act as if it has already happened! Be confident, be completely focussed on your goals, on what you want or what you want to be!"
Ilias Bulaid - Enfusion World Champion, Top Dutch Kickboxer with over 150 professional fights and highly regarded young Combat Sports prospect
"Stay motivated and surround yourself with good people who have the same mission as you, the desire to be the best. Spar hard!"
Mike Passenier - Legendary Dutch Trainer, Head Instructor/Owner of the World Famous Mike's Gym in Amsterdam and Coach to many of the World's Best Kickboxers
"Be all that you can be, be the best that you can be and if that means you never get any further than sparring on a Thursday night then thats it, enjoy! We all know the first time you spar Kickboxing, you are out of breath, your leg is hurting from the low kicks but you had so much fun, you got so much energy from the training. Try to relive every session with the same passion you had that day and if you do this the best of you will come out. If the best of you comes out, you will always enjoy what you do.
I see a lot of fighters who train because they have to or need to but Kickboxing is a beautiful sport, you should love it. I compare it to liking ice cream, if you can eat ice cream every day, all day long, wouldn't life be beautiful? That is the way you should live your sport!"
Ivan Hippolyte - Former Kickboxing World Champion, World level Muay Thai Fighter and Head Coach at Vos Gym in Amsterdam
"To be the best is first of all, do you want to be the best? You have to show that you want to be the best, that means train as hard as you can, don't get distracted by other things, keep your mind focussed. You have to train with the best, find yourself a good gym with good fighters and good sparring. This way you will find out if you can be the best because when you get hurt, the question is, will you come back tomorrow, will you come back the day after tomorrow? There are guys who will be the best because they report back tomorrow even though they got beaten up in training. It is not enough to say you are good or for other people to tell you that, you have to show that you are good!"
Damien Trainor - Former World/European Muay Thai Champion, Renowned UK Coach and Head Instructor at K-Star Legacy Gym in Birmingham
"Work hard, believe in what you are doing, there are going to be some upsets along the way but when falling off, you have to keep getting back on the horse. You will see a lot of people around you in the gym whom you think may be more gifted than you but then see them stop as soon as they hit a setback, because they lose their motivation. You have to be different, you have to keep going, that is what separates a champion from a normal person, otherwise everyone would be a world champion if it was that easy. Keep going, no matter what happens!"
Andy Howson - Former 5 x World Muay Thai Champion, Top ranked UK Fighter and Coach at Bad Company in Leeds
"You have to take this sport seriously if you are going to be a fighter, you can't tell your coach you are going to do this, that and the other and then be out getting hammered on a weekend. I trained my ass off when I used to fight. There was a brief spell when I did not take it as seriously and I lost three fights on the trot, losing to people I could of and should have beat. That really, really pi**ed me off and I quit, I retired. I had six months off and told everyone that I was done.
I just had no desire to train any more and I did not even go to the gym during this time. This was not like me at all. In the past, even when I had just fought, I would be back in the gym within a couple of days. I ended up going back just helping out other fighters preparing for their bouts, got back into a routine and found my passion returning to fight again. I came back and ended up winning 2 world titles as well as gaining an opportunity to fight for the WBC world title. You don't have to quit your job in the beginning or leave your life behind but if you are going to do it, take it seriously!"
I hope you have enjoyed reading the above excerpts taken from interviews with all these phenomenal figures! Please make sure you leave comments to let me know your thoughts on them and what your own martial arts advice would be if any different!!
Keep up to date with the Warrior Collective
If you would like to stay on top of all that goes on the Warrior Collective, please subscribe to the newsletter or follow on any of the Social Media listed below.