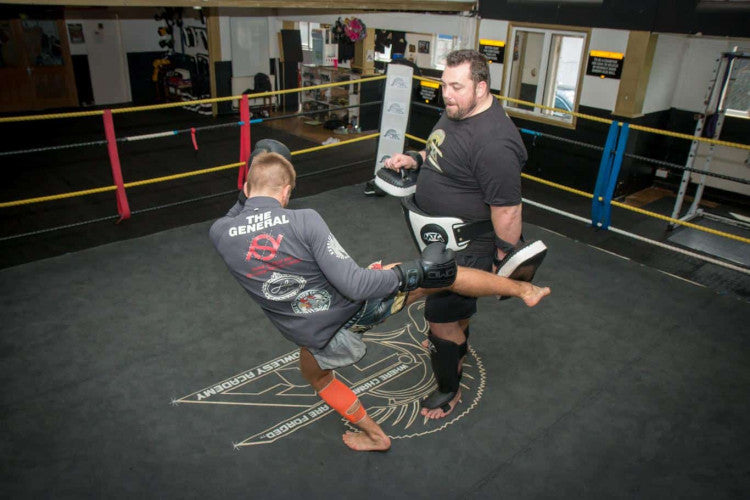 Muay Thai - Faking Kicks to Dominate Fights with Christian Knowles and Jonathan Haggerty
Muay Thai - Faking Kicks to Dominate Fights with Christian Knowles and Jonathan Haggerty
Most intermediate to high level fighters are programmed to instinctively react defensively when they see big kicks headed their way. This reaction can be used against them by learning how to utilise a framework for faking kicks in order to land either the same technique or a series of other effective attacks. Knowlesy Academy renowned head coach Christian Knowles and Muay Thai/One Championship World Champion Jonathan Haggerty train pad work together extensively so that this happens intuitively within fights.

Christian Knowles
The featured coach is Christian Knowles, World Muay Thai Champion, K-1 Tournament Champion and head coach at The Knowlesy Academy in London, UK. Christian is considered by many as of the best coaches to have come out of the UK.
Having had over 50 fights across the world, Christian's knowledge, experience and understanding of elite level striking is second to none. He has trained 4 world champions, 4 European champions and 14 British/English Champions throughout his time coaching.
Jonathan Haggerty
Alongside Christian is Jonathan Haggerty, current One Championship World Champion, Muay Thai World Champion, UK No 1 and highly renowned British fighter. Jonathan is well known for his exceptional athleticism and unparalleled work ethic. He is widely regarded as being one of the most talented fighters the UK has ever produced.
At only 22 years of age, Jonathan has an incredibly bright future in the world of combat sports. He has notable wins over world class fighters such as Sam-A Gaiyanghadao, Joseph Lasiri and Keith McLachlan.
Muay Thai Double Faking the Power Kick
Christian and Jonathan go over how to double fake to land the power kick in the video below
Muay Thai Tricks to Land Orthodox or Southpaw
Christian and Jonathan go over tricks to land shots orthodox or southpaw in the video below
Muay Thai Faking the Kick to land Aggressive Strikes
Christian and Jonathan go over faking the kick to land aggressive strikes in the video below
Muay Thai Attacking the Rear Leg
Christian and Jonathan go over how to use fakes to attack the rear leg in the video below
Muay Thai Faking the Kick to set up the Sweep
Christian and Jonathan go over how to fake the kick to set up the sweep in the video below
Information
For more information on Christian, The Knowlesy Academy or any of the fantastic coaching available with him, please contact him through his Instagram, Facebook or via his gym's website. To keep up to speed with the career and fights of Jonathan, follow him on Instagram today.
Related Content
If you enjoy this article then you may well love How to Kick like an Elite Level Pro Fighter or 5 Muay Thai Pad Work Combination Drills for Elite Fighters as already featured in the training section of this site.
Warrior Marketplace
You can find full length Muay Thai, Kickboxing and Boxing instructional volumes to download today from the Warrior Marketplace.
Thanks for watching, I hope you enjoyed watching this tutorial on Muay Thai - Faking Kicks to Dominate Fights with Christian Knowles and Jonathan Haggerty, please like, share and don't forget to subscribe to the Warrior Collective Youtube Channel for more great videos each week!!
Keep up to date with the Warrior Collective
If you would like to stay on top of all that goes on the Warrior Collective, please subscribe to the newsletter or follow on any of the Social Media listed below.