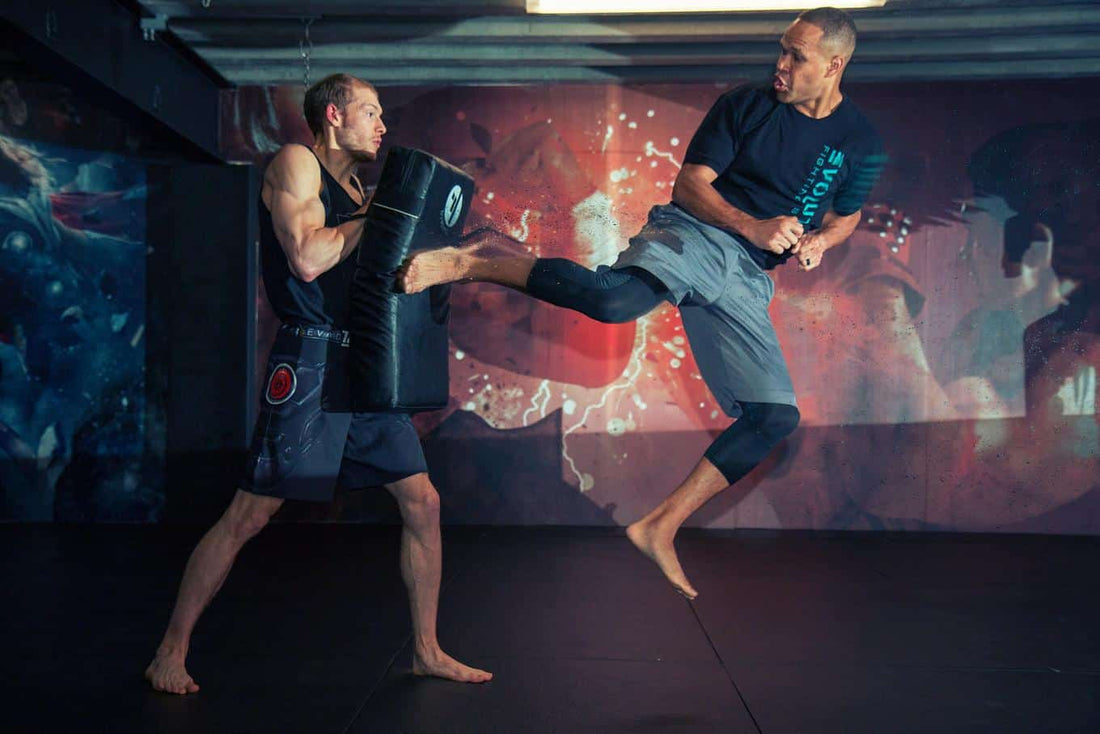 Raymond Daniels – How to set up and land spin back kicks in kickboxing and MMA
Spin Back Kicks are often attempted in full contact sports such as Kickboxing and MMA but more often then not, the lack the stopping power of which they are capable. These kicks look flashy and can very much leave a fighter at risk if thrown incorrectly or poorly timed. However, world class fighters such as Raymond Daniels have evolved their application of this kick to the point that they can make it look easy to land at any point during a fight.
Spinning kicks are mostly seen utilised in mat based combat sports such as Taekwondo and Karate, where the rules can protect an individual from the heavier levels of contact found within the cage or ring.
Raymond Daniels
Featured Coach Raymond Daniels is a global superstar in the world of Kickboxing, Karate and MMA, known for his unparalleled athleticism and phenomenal kicking ability. Adorning many a highlight reel due to his unprecedented number of finishes through unorthodox striking, he is a hugely difficult enigma for all of his opponents to try and solve. His style of attacking is fast and highly creative. This Kickboxing seminar with him is sure to be a masterclass in elite level fighting.
Raymond was born in Sun Valley, California and raised in Palmdale, California. His grandfather Frankie Daniels was a professional boxer as well as a Korean War veteran and Purple Heart recipient. He began training in American Kenpo karate in 1985 under the tutelage of his father Frank Daniels and earned his black belt in 1992.
He had humble beginnings as a junior competitor in sport karate competitions. By the age of 19, he would go on to become a top ranked fighter for both the National Black Belt League (NBL) and the North American Sport Karate Association (NASKA). Among his titles are eight NBL World Championships, at least two NASKA world championships, a second-place finish at the $50,000 World Pro Taekwondo Championship in Croatia in 2010, and nine overall championships at the W.A.K.O Irish Open
In 2006, Raymond Daniels began fighting for Chuck Norris' World Combat League as captain of the Los Angeles Stars. He fought in the 80 kg/178 lbs and 88 kg/195 lbs weight divisions, compiling a 17–0–0 (9 KO) fight record. He had a highly anticipated bout with fellow undefeated kickboxing star Stephen "Wonderboy" Thompson. He initially won the bout by technical knockout due to a knee injury suffered by Thompson
He is the reigning Bellator kickboxing welterweight champion and has defeated the likes of Michael 'Venom' Page in a striking career which has seen him win numerous titles including nine World Association of Kickboxing Grand Slam championships between 2005 and 2014. He has been undefeated since joining Bellator in 2016 and is currently on an 8 fight win streak within the organisation.
His recent win (and return to MMA after a 11 year hiatus) over Wilker Barros resulted in what is widely regarded as one of the best KO wins ever seen within Mixed Martial Arts.
Kickboxing / MMA – How to Land Spin Back Kicks
Raymond Daniels covers some of his favourite ways to set up and land this hard hitting kick in the video below
Information
For more information on Raymond, his gym, Evolution Fighting Systems or any of the fantastic coaching available with him, please contact him through his Instagram account or via his website.
Related Content
If you enjoy this article then you may well love Muay Thai Low Kicks – 3 Sneaky Ways to Use them in Sparring/Fighting or Karate Sparring – Fast Punches to Set Up BIG Kicks as already featured in the training section of this site.
Warrior Marketplace
You can find full length Kickboxing, Boxing, Muay Thai or MMA instructional volumes to download today from the Warrior Marketplace.
Thanks for watching, I hope you enjoyed watching this tutorial on Raymond Daniels – How to Set up and Land Spin Back Kicks in Kickboxing and MMA, please like, share and don't forget to subscribe to the Warrior Collective Youtube Channel for more great videos each week!!
Keep up to date with the Warrior Collective
If you would like to stay on top of all that goes on the Warrior Collective, please subscribe to the newsletter or follow on any of the Social Media listed below.