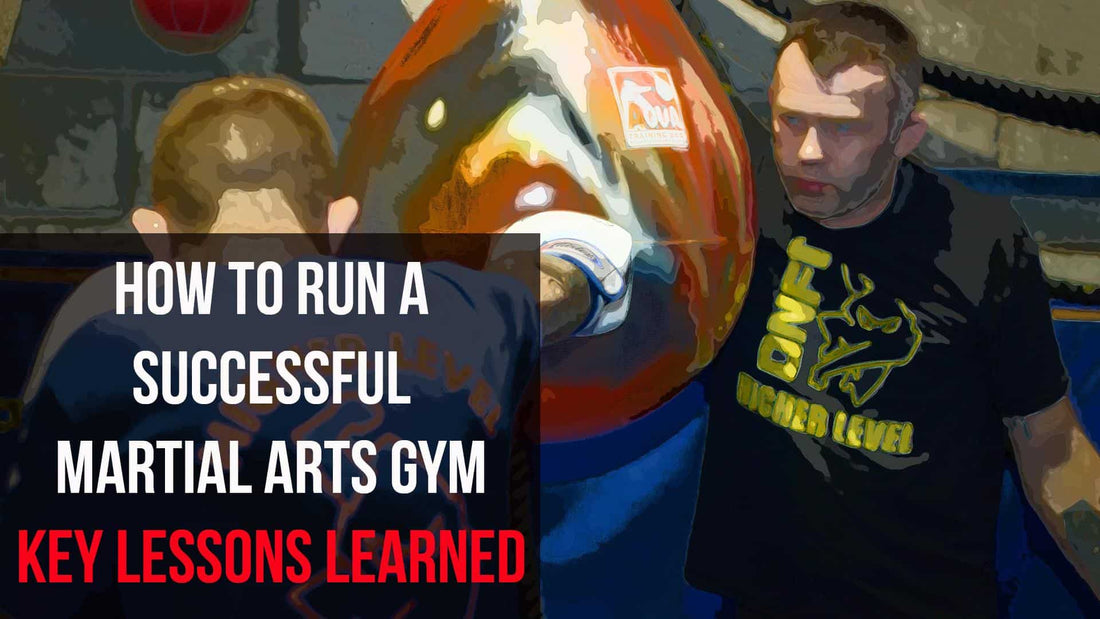 How to Run a Successful Martial Arts Gym 5 Day Series - Day 2
How to Run a Successful Martial Arts Gym
Personally, I think "how to run a successful martial arts gym" is something every instructor, head coach and gym owner has googled at some point. Martial Arts schools or gyms, by their very nature, require a multi faceted approach in order to make them run well. You have to balance the art i.e. having standards, ensuring levels are met, putting out fighters/competitors who are ready etc with the business i.e. earning enough money to sustain it, understanding marketing, IT skills etc and all the myriad of other skills needed in between.
I have been to countless gyms in lots of different countries through my work on the Warrior Collective. I can tell you that most of the problems faced are exactly the same everywhere. More often than not, they are simply just scaleable i.e. to the size of the gym or business and time dependent i.e. an older gym has usually already passed through some of the issues faced by those just starting out.
This short 5 day series is about speaking to a selection of people who are already running successful martial arts gyms across a wide range of different martial arts/combat sports disciplines and picking their brains in order to help better understand their approach to making it work for them.
If you have not already read day 1, you can do so HERE!
Day 2 - James Doolan / Higher Level Martial Arts
James Doolan is the owner and head coach of Higher Level Martial Arts. His full time gym in Whitburn, Scotland is renowned for it's consistent output of high level fighters under the DNFT (Dinky Ninjas Fight Team) banner. He is a globally respected instructor and has been in the corner of many of Scotland's best combat sports athletes over the past decade.
James started training MMA in 2000, but prior to this had years of experience in the striking arts, specifically Kickboxing and Muay Thai under his belt. Since then he has gone onto fighting on some of the UK's foremost promotions (Cage Warriors and BAMMA to name but a couple), earned his black belt in BJJ and successfully led his fighters out on the world's premier MMA events, including the likes of UFC, EFC and many more.
What does success mean to you?
Success for me is helping improve the standard of life of our students through martial arts. Our goal was to provide a place for people to come and train to escape the pressure and stresses of everyday life whilst helping them set and achieve their own individual goals. Successful students make a successful gym.
How do you make your gym work as a business i.e. financially sustainable?
Hard work, long hours and years of trail and error. Money has never been a primary concern of mine I've always believed if we offered the best possible coaching in martial arts and kept Martial Arts as our primary concern financial stability would come as a bi-product of that.
How do you maintain the standards of your students/fighters?
First I'm strict with the level of coaching we provide. I still coach the majority of our sessions. Although now I have a coaching programme, I am taking some fantastic martial artists who have shown an interest in coaching and I am teaching them how to do so through a system I have personally developed.
I supervise them coaching, review their progress and critique their sessions in a way that will help develop them for the future of our gym. Coaches require a different skill set to martial artists or fighters. Secondly, and just as important, I recognize every student is different and progress at different rates. If everyone's progressing and developing our standard stays high. No one gets left behind.
What are the biggest challenges in running a full time gym?
Dealing with so many personality's is one, you have to find out how to interact with every student in a mutually beneficial way. Keeping the group as a single unit/team, cliques are bad for the atmosphere in the gym. Keeping Ego's in check.
What 5 things do you know now that you wish you knew when you first opened your gym?
1. Pay attention to everyone.
2. No one student/fighter is bigger than the gym.
3. The coach controls the energy in the room.
4. Watch out for energy thief's
5. There's no money in fighters
You can get in touch with James here through his Facebook or Instagram for further information on himself and Higher Level Martial Arts!
I hope you have enjoyed Day 2 of this mini series on How to Run a Successful Martial Arts Gym! Make sure you check out Day 3 here!! Let me know what you think in the comments below!!
Keep up to date with the Warrior Collective
If you would like to stay on top of all that goes on the Warrior Collective, please subscribe to the newsletter or follow on any of the Social Media listed below.