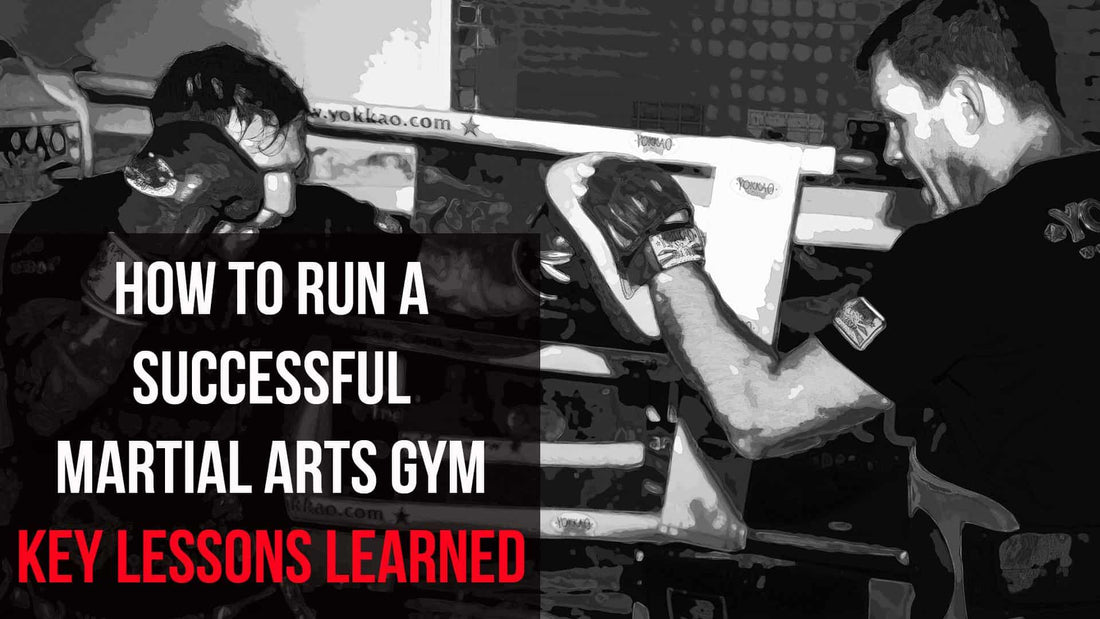 How to Run a Successful Martial Arts Gym 5 Day Series - Day 3
How to Run a Successful Martial Arts Gym
Personally, I think "how to run a successful martial arts gym" is something every instructor, head coach and gym owner has googled at some point. Martial Arts schools or gyms, by their very nature, require a multi faceted approach in order to make them run well. You have to balance the art i.e. having standards, ensuring levels are met, putting out fighters/competitors who are ready etc with the business i.e. earning enough money to sustain it, understanding marketing, IT skills etc and all the myriad of other skills needed in between.
I have been to countless gyms in lots of different countries through my work on the Warrior Collective. I can tell you that most of the problems faced are exactly the same everywhere. More often than not, they are simply just scaleable i.e. to the size of the gym or business and time dependent i.e. an older gym has usually already passed through some of the issues faced by those just starting out.
This short 5 day series is about speaking to a selection of people who are already running successful martial arts gyms across a wide range of different martial arts/combat sports disciplines and picking their brains in order to help better understand their approach to making it work for them.
If you have not already read day 1, you can do so HERE! Day 2 is HERE!
Day 3 - Richard Smith / Bad Company
Richard Smith is the owner, founder and head coach of Bad Company. His full time Yokkao sponsored gym in Leeds is famous for it's consistent output of high level Muay Thai fighters. Renowned World Champions such as Liam Harrison, Jordan Watson, Andy Howson, Richard Cadden and James France all came out of this huge stable of talent.
Richard himself was a 4 x British, European and Commonwealth Champion before stepping back from competing to concentrate on coaching. The World titles won by his students is well into double digits now with over 30 now having been earned by those who call Bad Company home! A much sought after instructor all over the world, he continues to be successful at the highest level of competition.
What does success mean to you?
Success has meant different things as the gym has progressed and I've gotten older. I remember my first goal when I opened the gym in 1992 was to have a British Champion. Obviously we've achieved a bit more than that over the years. Training World Champions and having a stable of World Class fighters will be seen by many as a measure of success.
I suppose getting to the top and staying there is also a measure of success, but honestly, I believe success is having a friendly gym where people like to train. Somewhere with a good atmosphere and good people. Having a good team, watching them grow as people and progress as athletes is a measure of success.
Also, making sure there is no compromise on quality of training, taking things for granted or cutting corners just because you're successful is important.
We think its really important to deliver what people hope for when they come to us. People give us their time, share their hopes and tell us their dreams, and we try to take that seriously.
How do you make your gym work as a business i.e. financially sustainable?
I must admit, I could be better at the business side of things. I don't really run the gym as a business even though it is our living! I think both Lisa and I run it as a passion, even after all these years. We try to keep the training as strong as possible, keep developing ourselves as coaches and make sure there's a good, friendly atmosphere at the gym. Well, at least Lisa does. I just walk around looking grumpy!

How do you maintain the standards of your students/fighters?
Its important to keep developing as a trainer - both within the sport of Thai Boxing but also with regards to general strength and conditioning training methods, fitness and nutrition. I'm always learning and picking up new things to incorporate into my coaching.
A good relationship in the gym is important too - we all want the best for everyone so we're prepared to listen and learn from one another. I'd like to think that my fighters still listen to me because there's a mutual respect there.
What are the biggest challenges in running a full time gym?
I think keeping your own and others ego's in check! Some of my fighters have progressed far beyond anywhere that I did. At the end of the day that's my job as a coach. But, they also have to continue to respect you, listen to you and not think they are too good for you. The only way to do this is to keep progressing with your own knowledge and maintain a strong relationship.
We're like a family at our gym. We have our little arguments and irritations but at the end of the day still value one another and work well together because we like one another (most of the time!). I think the only way you can do that as a coach is to want whats best for your students, not for yourself.
What 5 things do you know now that you wish you knew when you first opened your gym?
1) Keep perspective. It is usually not as big a deal as you think it is.
2) Keep grounded. You're usually not as big a deal as you think you are.
3) It's better to regret what you've done than what you've not done - grab every opportunity. Turning things down because you don't feel fit enough or because you don't feel you're ready for them or the suns not in the right place in the sky is usually a mistake. Those things are just excuses.
4) Always be reliable - do what you said you would do and don't let people down.
5) Having said all that, I do wish I'd dished more beatings out on the people who leave their stinking stuff lying around the gym because they still do it now!
You can get in touch with Richard here through his Website, Facebook or Instagram for further information on himself and Bad Company!
I hope you have enjoyed Day 3 of this mini series on How to Run a Successful Martial Arts Gym! Make sure you check back tomorrow for Day 4!! Let me know what you think in the comments below!!
Keep up to date with the Warrior Collective
If you would like to stay on top of all that goes on the Warrior Collective, please subscribe to the newsletter or follow on any of the Social Media listed below.