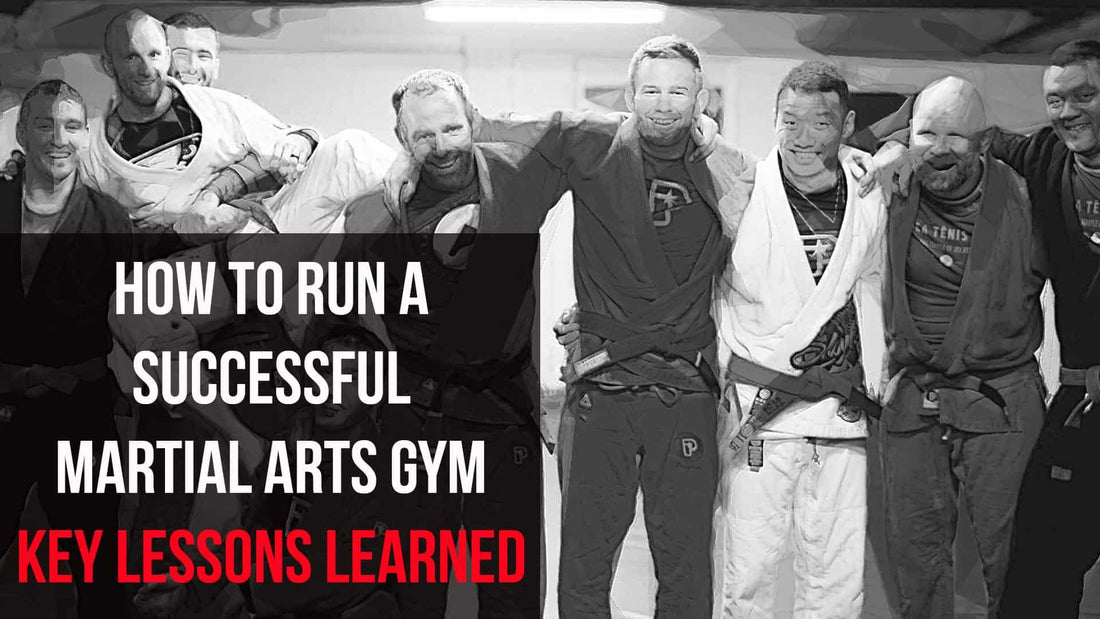 How to Run a Successful Martial Arts Gym 5 Day Series - Day 4
How to Run a Successful Martial Arts Gym
Personally, I think "how to run a successful martial arts gym" is something every instructor, head coach and gym owner has googled at some point. Martial Arts schools or gyms, by their very nature, require a multi faceted approach in order to make them run well. You have to balance the art i.e. having standards, ensuring levels are met, putting out fighters/competitors who are ready etc with the business i.e. earning enough money to sustain it, understanding marketing, IT skills etc and all the myriad of other skills needed in between.
I have been to countless gyms in lots of different countries through my work on the Warrior Collective. I can tell you that most of the problems faced are exactly the same everywhere. More often than not, they are simply just scaleable i.e. to the size of the gym or business and time dependent i.e. an older gym has usually already passed through some of the issues faced by those just starting out.
This short 5 day series is about speaking to a selection of people who are already running successful martial arts gyms across a wide range of different martial arts/combat sports disciplines and picking their brains in order to help better understand their approach to making it work for them.
If you have not already read day 1, you can do so HERE! Day 2 is HERE! Day 3 is HERE!
Day 4 - Steve Campbell / Stealth BJJ
Steve Campbell is the owner, founder and head coach of Stealth BJJ. His full time BJJ gym in Oldham is hugely respected nationally and internationally for both it's high level of coaching and it's athlete's repeated success at all levels of competition.
Steve spent 8 years training at the Gracie Barra headquarters in Rio de Janeiro, Brazil, where he earned his black belt under Carlos Gracie Jr. He was the first Mancunian BJJ black belt, receiving his belt in January 2007 after having a successful competition year at brown belt winning the Rio state championships, Copa Rolls Gracie and getting silver in the Brazilian championships. Steve was also one of the first European black belts to receive all his grades in Brazil under the direct tuition of Carlos Gracie Jr.
What does success mean to you?
My main goal in opening a gym was to bring training partners on so that I had local people to train with. During this time I was still working full time but developing a core group of students/training partners, which would prove crucial for the growth of the gym in the future.
I see success as having a gym that has a good atmosphere where people want to hang out and enjoy being there. A place that offers classes catering for all ages and levels, not just the competition team. Also, a place that is financially stable, where I can have fun and train, but not have to get too caught up in the business side of it and lose focus on why I started it in the first place!
How do you make your gym work as a business i.e. financially sustainable?
Making the gym financially sustainable probably took me longer than it should. I never wanted to lose the passion for BJJ, because I was worrying about making a living from it. Therefore, I continued to work a full time job, probably longer than I should have. As the gym had grown organically, we already had a core group of higher grades at the gym which helped a lot. This enabled me to create classes for different belt levels/experience, so that the beginners go through a separate course.
Having kids classes has also helped and has created a good vibe in the gym. Whilst the kids classes are on the adults can train in the other room. This has really made it into a full time gym with around 6 hours of mat time available everyday. I was in a lucky position coming back from Brazil with a black belt over 10 years ago, just before Brazilian Jiu Jitsu started to boom. My main tips for making the business work, would be creating a good place to train with good people around you.
That way you will get less people leaving and won't need to market the gym like crazy to keep the numbers up. You will also get referrals from friends of people who currently train. We have tried to make it more business like by removing pay as you go classes which has helped a lot and allows us to spend more time on the mat teaching.

How do you maintain the standards of your students/athletes?
Maintaining the standard of students is just part of the process which I mentioned above. I believe your main aim as an instructor should be to get people better with well planned out classes and a passion for people to do well.
What are the biggest challenges in running a full time gym?
One of the biggest challenges is not letting the business side of it, take away your initial reason for starting your own club. If you suddenly find you no longer have time to train, it's time to reevaluate what you actually want from the gym.
What 5 things do you know now that you wish you knew when you first opened your gym?
1) BJJ was going to get way more popular in the last 10 years (I would have quit my job sooner)
2) Starting kids classes sooner.
3) Giving people too many payment options is hard work and takes up lots of time.
4) There is no one secret. It is doing lots and lots of smaller things that make a good gym.
5) It will all work out fine.
You can get in touch with Steve here through his Website, Facebook or Instagram for further information on himself and Stealth BJJ!
I hope you have enjoyed Day 4 of this mini series on How to Run a Successful Martial Arts Gym! Make sure you check out Day 5 here!! Let me know what you think in the comments below!!
Keep up to date with the Warrior Collective
If you would like to stay on top of all that goes on the Warrior Collective, please subscribe to the newsletter or follow on any of the Social Media listed below.