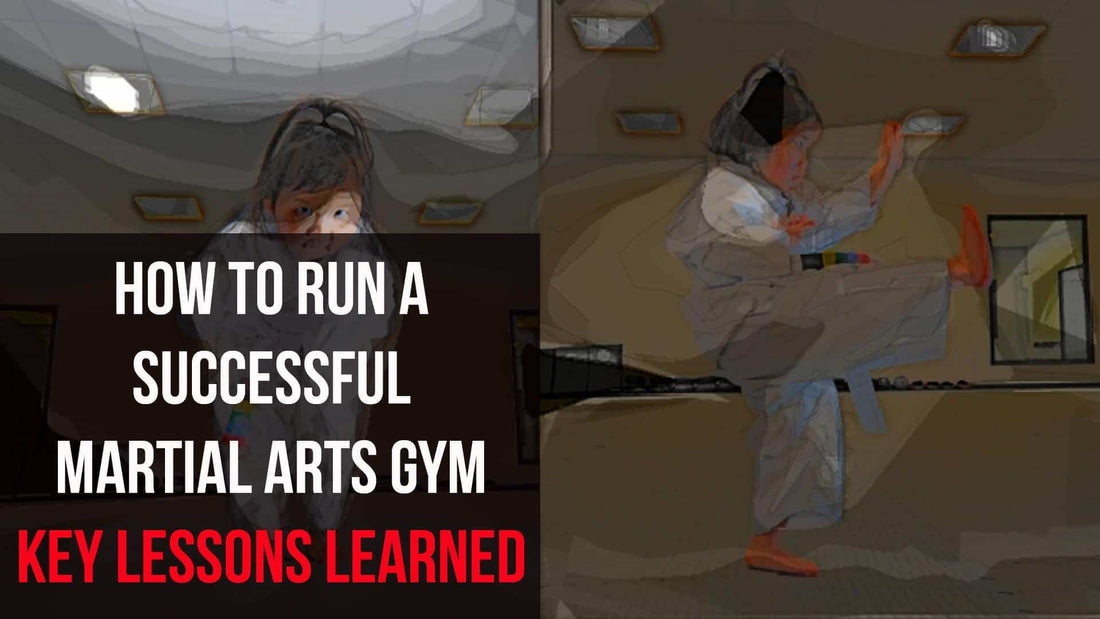 How to Run a Successful Martial Arts Gym 5 Day Series - Day 5
How to Run a Successful Martial Arts Gym
Personally, I think "how to run a successful martial arts gym" is something every instructor, head coach and gym owner has googled at some point. Martial Arts schools or gyms, by their very nature, require a multi faceted approach in order to make them run well. You have to balance the art i.e. having standards, ensuring levels are met, putting out fighters/competitors who are ready etc with the business i.e. earning enough money to sustain it, understanding marketing, IT skills etc and all the myriad of other skills needed in between.
I have been to countless gyms in lots of different countries through my work on the Warrior Collective. I can tell you that most of the problems faced are exactly the same everywhere. More often than not, they are simply just scaleable i.e. to the size of the gym or business and time dependent i.e. an older gym has usually already passed through some of the issues faced by those just starting out.
This short 5 day series is about speaking to a selection of people who are already running successful martial arts gyms across a wide range of different martial arts/combat sports disciplines and picking their brains in order to help better understand their approach to making it work for them.
If you have not already read day 1, you can do so HERE! Day 2 is HERE! Day 3 is HERE! Day 4 is HERE!
Day 5 - Ricky Lam / Premier Martial Arts
Ricky Lam is the owner, founder and head coach of Premier Martial Arts. His full time gym in Leeds coaches Taekwondo, Krav Maga and Kickboxing as it's main programs. It's facilities, structure and management are often utilised by other schools as a bench mark to aim for when it comes to running a successful martial arts gym.
Ricky has multiple black belts in various different disciplines and has been an active member of the UK Martial Arts community for many years.
He is a 4th generation martial artist who began training in martial arts at the age of 6 with his father, a Kung Fu teacher from Hong Kong. He started training in Taekwondo at the age of 10 and went on to compete at a high level, representing Scotland and Great Britain in competitions.
What does success mean to you?
Success means several things to me but the most important thing is knowing that I can look after my family and provide them with positive experiences and opportunities. It also means being able to earn a great living whilst doing something that I am passionate about and truly believe in.
On a teaching level it means to be able to teach and transform students by empowering them with martial arts. Whether it's confidence or just making them fitter, it's about being able to make a positive difference in the lives of my students.
How do you make your gym work as a business i.e. financially sustainable?
The simple answer to this is make sure that everything is systemised. Everything from dealing with enquiries, sign up procedures, marketing to teaching classes ( ie class plans ) down to even how to clean the gym. (What to use and methods) Once you get this in place and set your goals, be it financial, student count or competition results you share it with your team and you break it down into bite size chunks.
Then you just get to work making sure you track your results on a daily basis. The biggest change that I made in order to make the business financially sustainable is to set a monthly gross revenue target and then put steps in place to reach that target.

How do you maintain the standards of your students/athletes?
First of all our curriculum is extremely organised. We have class plans for the year that is broken down to quarterly, weekly and daily. This way you know exactly where your students are at and what your instructors are teaching.
We do monthly stripe testing which is basically an on going assessment to make sure students are on track for their grading every three months. During grading we have a scoring system for different areas that we can review with students and also with instructors to help improve everyone's performance across the board.
What are the biggest challenges in running a full time gym?
The biggest problem that I have experienced is staffing. However, I have learnt over time that the solution to this is ongoing and regular structured staff training. So every Monday we work on curriculum and also instructors teaching development.
On the same note it is important to continue building talent and adding to your team, so having an organised instructors/leadership/CIT is very important.
What 5 things do you know now that you wish you knew when you first opened your gym?
1. Don't manage your staff the way you teach.
2. Set your goals, make sure you track them and work towards them daily.
3. Share the bigger picture with your staff so you can work on it together.
4. Work hard but use your time wisely. Don't just be busy being busy.
5. Don't be afraid to delegate. Train your staff well and trust them.
You can get in touch with Ricky here through his Website, Facebook or Instagram for further information on himself and Premier Martial Arts!
I hope you have enjoyed Day 5 of this mini series on How to Run a Successful Martial Arts Gym!! Let me know what you think in the comments below!!
Keep up to date with the Warrior Collective
If you would like to stay on top of all that goes on the Warrior Collective, please subscribe to the newsletter or follow on any of the Social Media listed below.