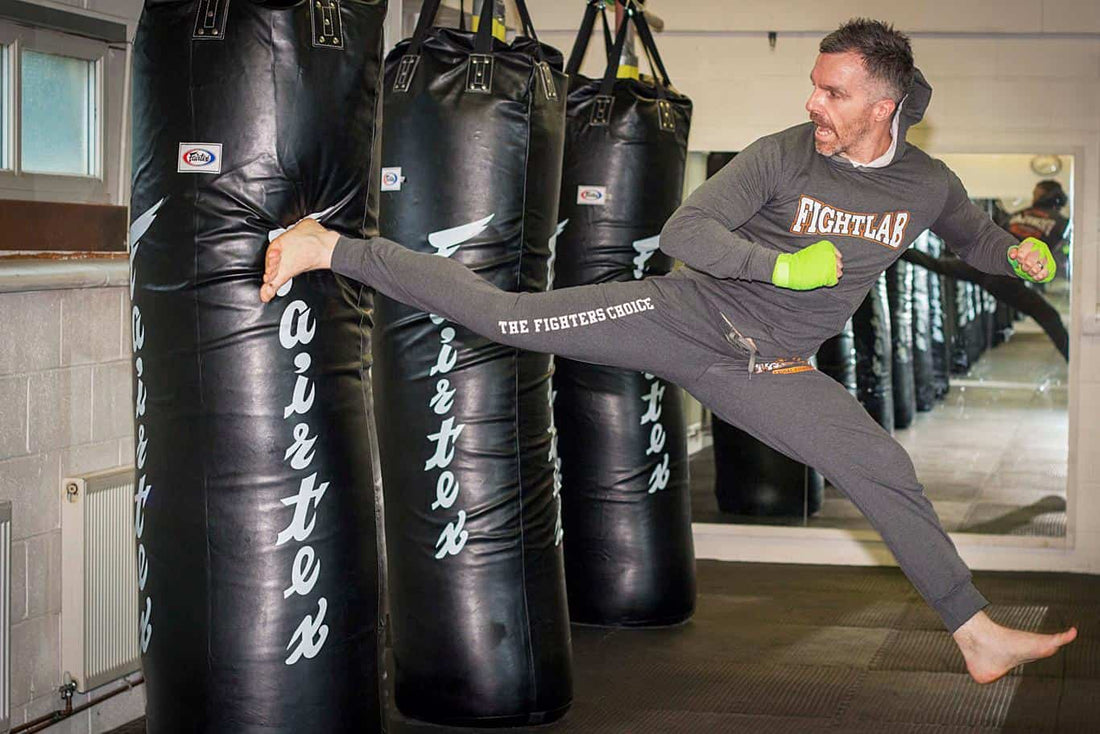 Fightlab "Champion" Tracksuit Review
Fightlab "Champion" Tracksuit Review
Fightlab, established in 2010, is a hugely popular Thailand based fightwear/equipment brand. Known for their extensive product range specifically aimed at strikers the world over (think Muay Thai, K1, Kickboxing, Boxing, MMA etc), they have produced numerous must-have items over the past 8 years. Their newest release, the "Champion" range of tracksuit wear, is looking to place itself firmly into this esteemed collection.
First Impressions
Fightlab kindly sent me one of these full tracksuits in grey to try out. First off, I have to say that I am not normally that into wearing full tracksuits. I often find them bulky and uncomfortable for training in anything other than cold weather running. I also tend to avoid wearing them casually as I have not really ever come across a particular style that I liked enough to do so.
So, I am not typically the kind of person that would buy one. Having said all that though, I was open to putting it to the test. Straight out of the box I liked how the material felt off the bat. The design did not look garish but neither did it jump out at me either.
I really liked the colours. The grey was dark in tone and perfectly complimented by the orange/white text/graphics.
Where this tracksuit scored most though was once it was on! I have never worn a better fitted track suit than this (might have lucked out with the sizing as well ha ha). It felt and looked brilliant on. Definitely a track suit for summer/autumn wear as it is not bulky at all. The lightness of it alongside the clean lines meant that this was definitely something I would wear outside of the gym.
As a second layer for training/running it worked well. I normally wear jogging pants or hoodies that are much more bulky if it is cool but I could easily see myself converting to these if the temperature is not too low. Although I was initially not blown away by the design when in the packaging, it's little details and colour scheme alongside the great fit once on ensured I became a convert. Love it a lot now!!
Anything else?
Any other things to consider?
Well, don't be put off with it being a Thai based brand. Their delivery is fast (as they have a UK based warehouse) and the customer service great. They have a strong and reputable track record so can be ordered from without any need to fret.
Sizing obviously is something you will want to get right. Returning items can be a costly process best avoided. The size guide on the site is pretty accurate. The tracksuit I am wearing in the photos is a Medium. I am 6ft tall with a 31 inch waist. It fits me perfectly as it is an athletic/slim fit. Any taller or heavier and I would definitely go up!
Summary
Pros
Material - The material blend used in this tracksuit feels amazing. Light and feels fitted without being tight.
Quality - It looks and feels like a very well made tracksuit and punches well above it's weight in this department.
Colours - I obviously love the grey that was sent to me but the others in the range look equally as great.
Delivery - I have said it before but these guys deliver quickly and are speedy to respond to any questions via e-mail or social media.
Cons
Design - This is really down to personal taste but you are either going to love the logo style brand design or hate it. It is not garish and not covered in bling or extrovert imagery so some find it too low key.
Cost - The full tracksuit is not cheap at £69.99 for the hoody and £42.99 for the pants. It is however currently on sale at £39.99 and £29.99 respectively, which I feel is excellent value for the product.
Temperature - This tracksuit is definitely for summer/autumn wear only given it's light feel and slim fit. Not one to order in a cold climate or for use in winter!
Would I recommend it? For sure! It has made a tracksuit convert out of me!! I am really pleased to have an item that looks good outside of the gym whilst remaining practical inside of it. I am a big fan of grey (like a lot of 40 year old women into current house decorating trends ha ha) so could not have had a better match to my existing wardrobe!
I like it's low key design/imagery and find the colours work well throughout. It's not going to win any awards for outlandish fashion but on that point it is probably going to win as many admirers as it is detractors, given that the swing the other way has to some extent gone pretty far for other brands!!
I am now an even bigger fan of Fightlab than I was previously. This tracksuit is a clear example of the brand's ethos, producing well made, awesome looking products that scream quality and a love of the sport!
Ratings
Design - 8/10 (great little details)
Quality to Cost Ratio - 8/10
Fit - 9/10
Colour - 9/10 (perfect for all you dark colour lovers out there!)
Material - 9/10 (Love the feel)
Overall - 9/10 (these are definitely going into my front of wardrobe circulation)
For any further information on this tracksuit, to purchase a pair at a great price or check out any more of the excellent Fightlab range, please visit www.fightlab.co.uk!
Keep up to date with the Warrior Collective
If you would like to stay on top of all that goes on the Warrior Collective, please subscribe to the newsletter or follow on any of the Social Media listed below.