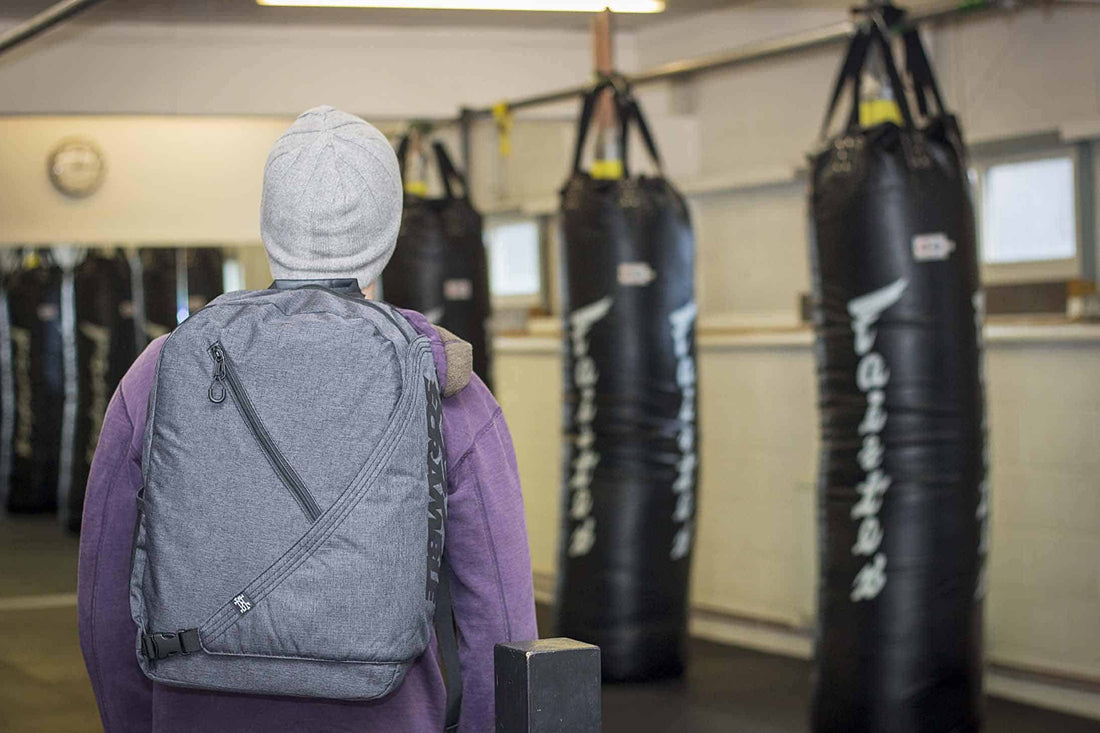 Scramble Kimono Backpack Review
Scramble Kimono Backpack Review
I have to start off this review by stating just how much of a fan of Scramble I am. I genuinely believe they have some of the best designs in the business today and they are by far one of my favourite combat sports brands! I love the different influences evident in their work (especially the Japanese themes), their collaborations with other truly brilliant individuals/brands and their tireless work in promoting BJJ. They sponsor and support an insane amount of athletes and are hugely regarded for this and many other reasons. Having already seen the images of the Scramble Kimono Backpack, I was over the moon when they sent me this uber BJJ accessory to test out!
Scramble Kimono Backpack First Impressions
Straight out of the packaging I loved it! There are so many things with this bag that appeal to me it is hard to know where to start!
Firstly, the colour is definitely the right choice. The marl grey with lettering, zips and details all in black make it definitely something you would want to utilise every day and not just for going to the gym. The functionality of this backpack is obvious. The sizing is perfect for Gi's and other BJJ related items. It also comes equipped with a padded laptop sleeve, which for me, is a godsend given how much I travel around and work from one on the go constantly.
The padding on the underside of the bag is perfect and much appreciated on the back when worn. Although it is not everyone's cup of tea, I also like that it has the clips connecting the shoulder straps together when being carried. A definite sign of a well thought out backpack.
What makes this bag stand out though, apart from all of the above, is the asymmetrical zip across the back coupled with the kimono (or Gi) style opening. This little nod to other BJJ, Judo, Karate or any experienced martial arts student or practitioner is a work of art. I am a huge geek at heart (I think most people into martial arts are ha ha) and love the quirky and unique. This backpack is going to do some major miles with me!!
Anything else?
Any other things to consider?
Well, there is no denying it, some people are going to baulk a little at paying £54.99 for a backpack, when there are plenty of cheaper options on the market.
My only little bugbear with the bag is that if you don't have it pretty full, it does crease in appearance quite easily on the back. This is partly due to the design but mainly because of the material utilised in my opinion.
Review Summary
Pros
Material - The material blend used in this backpack is light, feels great and is water resistant.
Quality - It looks and feels like a very well made backpack in every respect. You get what you pay for!
Colours - I have said it before and I will say it again, you can't go wrong with grey! All the other details in black set the whole ensemble off brilliantly.
Design - I can easily say that the design of this bag is by far it's strongest point. Quirky and unique (as you would expect from Scramble) with the kimono styling offering nods to the BJJ (and Martial Arts) community. Functional in terms of what it was designed for but with more than enough style that this could be utilised in every other area of your life!
Cons
Cost - £54.99 does not make it the most expensive backpack in the world but some people will no doubt not want to part with this if their only criteria is simply a bag to transport their kit in.
Creased appearance - This is not a deal breaker by any means but as a self confessed OCD nut, this does bother my eyes ha ha. If the backpack is not full, the material does clearly show creases on the back when being worn.
Would I recommend it? 1000%, this is so far up my street, I am surprised it is not living next door to me already ha ha!! I have no qualms with paying more money for quality products. Especially when they come from as awesome a brand as Scramble and have so many cool, little details incorporated into the design.
Although backpacks are not necessarily the kind of item you normally scramble to purchase (get it ha ha), this is definitely one of those must have items that you will only kick yourself over if you miss out on getting one. A must have BJJ accessory for sure!
Ratings
Design - 9/10 (a truly unique item)
Quality to Cost Ratio - 8/10
Functionality - 9/10 (does everything you would want it to do, only in a much cooler way)
Colour - 9/10 (perfect for all you grey lovers out there!)
Material - 8/10 (lightweight)
Overall - 9/10 (this now my official bag for any training/travelling)
For any further information on the Scramble Kimono Backpack, to purchase one or to check out any more of their phenomenal range, please visit www.scramblestuff.com!
Keep up to date with the Warrior Collective
If you would like to stay on top of all that goes on the Warrior Collective, please subscribe to the newsletter or follow on any of the Social Media listed below.